6 Different Face Shapes For Hairstyle & Makeup
September 14th, 2018 by Janie Wilson
Face Shapes: Do you know what is your face shape? Every time we search the Internet for hairstyles, haircuts or makeup tricks that can help us, we always find fabulous tutorials for different face shapes.
Have you ever thought "What is my face shape?" We show you how to measure your face shape step by step to give exactly answer for "What shape is my face?"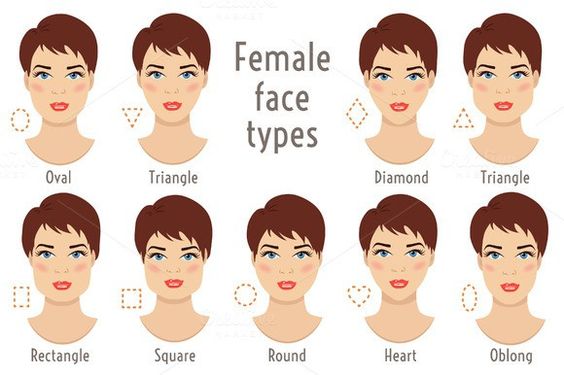 Why I Should Know My Face Shape?
Understanding what face shape do you have will not only help you to know your facial morphology better, but it'll give you the chance to hit each time you decide on a haircut or make-up.
It could be said, in general, that knowing your face shape is vital to take advantage of all the strengths of your physical appearance.
In the world of beauty, it's essential, because knowing your face shape, can make better use of our concerns.
When it comes to makeup, make a haircut, hairstyle or accessories, knowing what type of face shape you have will help you look better and find a balance between the shape you have and what you decorate around.
If you still don't know what face shape do you have, then I invite you to take out a paper and pen, write down the following simple steps. Ready to see the shape of your face?
Materials:
Pencil or pen
A minimum sheet of letter size
Mirror
Ruler or tape measure
How To Determine Your Face Shape:
Let's face towards the mirror so that the face is straight and facing forward.
Then we'll begin to cover different points of the face to represent them on the sheet of paper, so I advise you to set yourself in a position where you can look at yourself with enough light and with the convenience of drawing lines.
First, we're going to measure the length of our face. It's from the line where the hair is born, up to the chin, going through the nose, that is, splitting the face in half vertically.
This line must represent it on the sheet equally in the middle of the vertical form.
Later we'll take measures horizontally. Remember that if you use tape you have to place it as straight as possible, do not follow the outline of your face but keep it firm as if it meant a rule.
Now measure the forehead width and trace the line at the top of the page, making a perpendicular to the first vertical line. It will form you a "T."
How To Know Your Face Shape:
We continue with the measurement of the line of the eyes. Place yourself where the hair growth begins and pass over the eyes until you reach the other end; This line you'll draw about 4 cm below the first horizontal.
Next, we're going to take the measurement that goes from cheekbone to the height of the ears approximately, and we're going to place it again about 4 cm below the second horizontal line.
Finally, measure the length of your face at the level of the jaw, just where the bone begins to bend toward the chin and draw it below the third line.
With the same rule join the corners of each line and you will see how the resulting form will resemble some figure like heart, oval, diamond, circle, etc., which are the most common forms of faces so identify yours and go.
My result was an oval face, and yours?
What Is Your Face Shape Type?
Once you have taken all the measurements of your face, check below with which you keep a greater similarity and take advantage of all the benefits of your face shape. Your appearance will improve in a short 
Heart-shaped faces:
The heart-shaped faces are broad on the forehead and gently reduced to the line of the jaw.
If you identify with this form, you can have a pointed chin similar to that of the actress Reese Witherspoon. This form is also known as "inverted triangle."
The following styles that we will present to you that work best if you have a heart-shaped face:
Sweep Side bangs:
Your sharp chin tends to be the focal point of your face. Look closely at the eyes and cheekbones with the side bangs.
Bangs long to the eyebrows:
This style of bangs is defined by diverting the attention of your sharp chin towards your eyes. Short hair is a good style, and if you have this face shape, it will feel great.
For this type of faces, pixie hairstyle suits the best. Keep the upper layers of your hair soft and long. Find out and try which of the short hair styles feel best to your face shape.
Long hair with long layers:
If you have a long hair, opt for long layers that brush your cheeks.
Celebrities With Heart Shaped Face: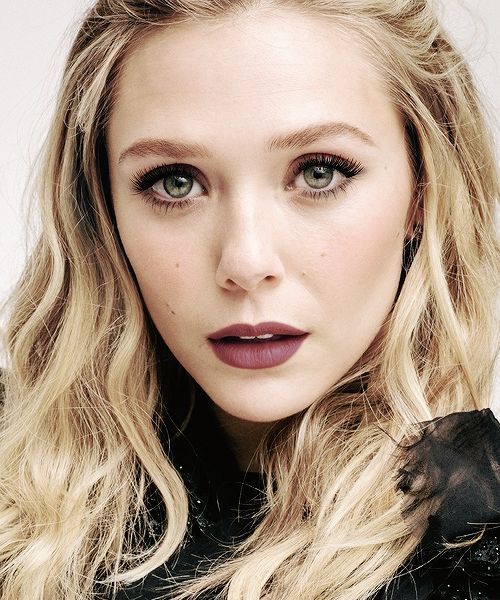 Hair Styles To Avoid For Heart Shaped Face:
Avoid wearing short hair, fringes, and broken layers.
Celebrities With Same Face Shape:
Katie Holmes, Jennifer Lopez, Jennifer Lawrence, Rachel Bilson, Reese Witherspoon, Ziyi Zhang
Square Face Shape:
If you have a square face, you'll have the following requirements that we present below:
The width of your chin, forehead, and cheekbones and are of equal proportions.
You have sharp, angular points including a pointed chin. (If you have features that are soft and rounded, you might have a rounded face.)
If you've a square face shape, consider yourself blessed. Some of the most fabulous celebrities of the past and present who have a square face shape like, Keira Knightley, Gwyneth Paltrow, Demi Moore, and Helena Christensen.

The other notable benefits of having a square Face Shape: These are the ones that look best in photographs and women with these robust features tend to age elegantly and beautifully.
Haircut For Square Shaped Face:
If you've a square face, you may want to minimize your angular and sharp jaw.
Here are some tips on the styles that'll look great according to your face shape:
The form, of your hairs and your tips will make you look fantastic to your square face.
You can also wholly cut very short hair and avant-garde cuts.
Long hair, making the layers start at the jawline and continue down. It's an elegant style, and it's made to measure for this kind of face shape, and it looks fabulous.
You can take an example of the actress Gwyneth Paltrow.
Long hairstyles are an excellent option!
The slanted side bangs will look fabulous on your square face.
Square Face Shape Celebrities: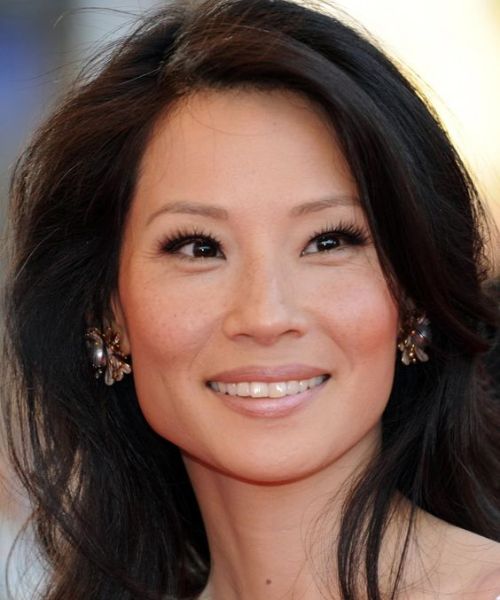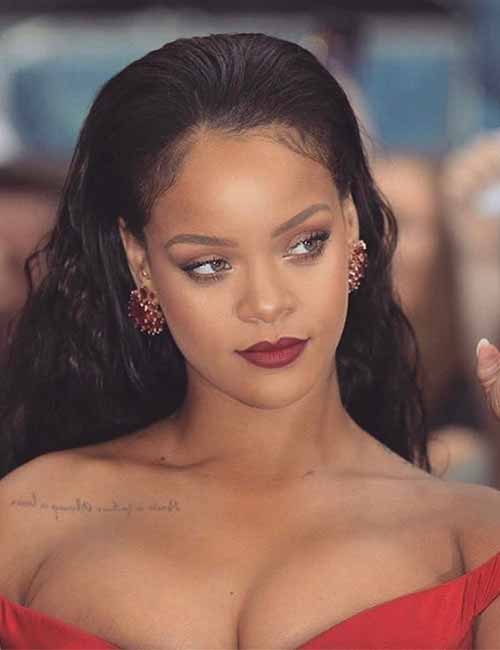 Round Face Shape:
If you recognize some of the features that we present below, then you have a round face shape:
The width of your jaw, forehead, and cheekbones are of equal proportions.
Your jaws are slightly rounded as opposed to angular.
If you've soft features in common, the variation between a round face and a square face (which also has the same measurements across the length) is found in the angles.
The square faces are of sturdy build, angular features, while the round faces are of softer features.
Round faces tend to have non-angular, softer features and full cheekbones.
You may find that you have more than one round face when you are overweight, but keep in mind that many classic women with round faces are super thin and still have non-angular features.
Notice that celebrities despite their slim build still have a rounded face.
Haircut For Round Shaped Face:
Typically, if you have a round face, you want to make it look more elongated, thin and less round. Well, here we give you advice on how to achieve it, create less volume around the face.
Try cutting those strands that fall just below the cheek as in the case of bob style. Soft and graduated layers like those that we can appreciate in the gallery of length styles until the men are a great option since they make your face look thinner and removes volume and weight from the sides.
Celebrities With Round Face:
If you have a round face feel good company as you share the same look as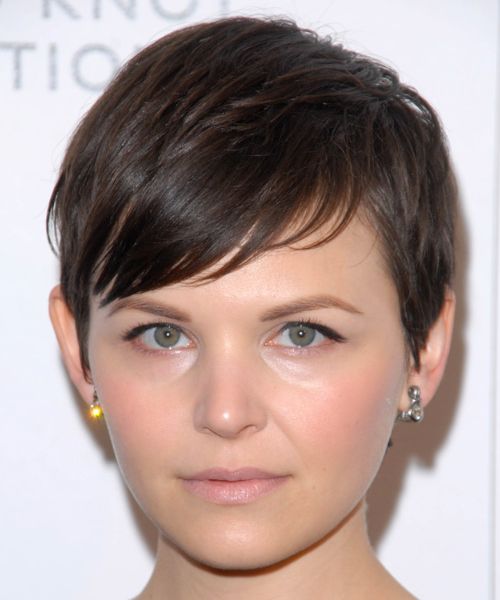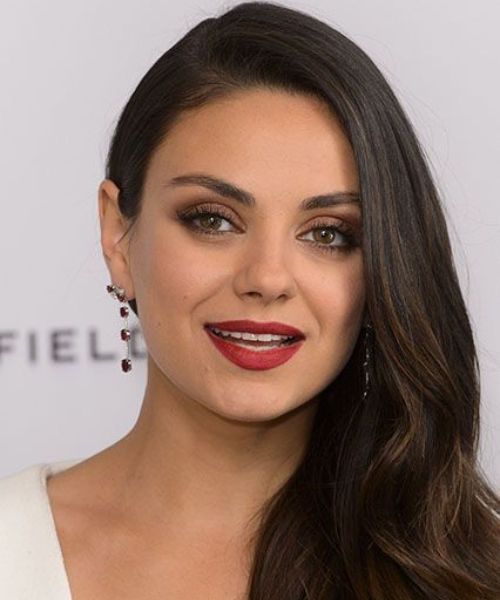 Diamond Shaped Face:
If you have a face diamond shaped face, your face tends to be wide on your cheekbones, and the line of the jaw and forehead are the same length. But they are still narrower than your cheekbones.
Diamond Face Shape Celebrities: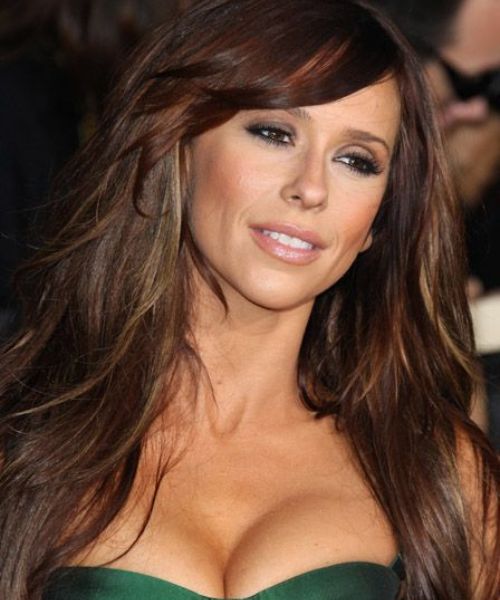 Long Face Shape:
The elongated or outward faces tend to be broad. The perfect haircut for long face shape is one that does not stick to the sides of the face but adds volume.
Haircut For Long Face Shape:
Here are some of the styles that look great to the long face shape:
The bangs can be your best friend because they can hide your big forehead.
Try side bangs, trimmed or straight.
When you have a haircut, one at the height of the chin is ideal for those who have this shape because it creates the illusion of width.
The long Brooklyn Decker cut is an excellent choice for a long face shape. Make sure your hair stylist cuts the hair a little short behind, so it doesn't look dull.
Curls and waves work very well since they add volume to the sides of your face.
Be Careful With Long Hair:
Long layers work best with pieces that touch the nose, chin, and clavicle. Consider a v-shaped style where the length is shorter behind, while the sides and forehead of your hair appear short.
Also, consider adding ripples or curls to the hair.
Styles that you should cancel if you have a long face:
Stay away from extreme hairstyles. No longer than the clavicle and reject a pixie cut.
Celebrities With Long Face Shape:
Oval Shaped Face:
If you have an oval face shape, the length of your face is equal 1 ½ times its width.
If you have a face with these features, open a bottle of your best wine and congratulate yourself since you have one of the most versatile face shapes.
You can try with almost any hairstyle. Just be careful, with a bad cut, because your face can start to look long. But life is not so wrong with a long face shape.
Oval Face Shape Hairstyles:
The oval face shapes have the most versatile form for styles of haircuts.
You can try almost any style: short or long, straight or wavy or even a funkier hairstyle, one of the most daring and avant-garde hairstyles.
If you have a magnificent bone structure, consider an angular bob cut that will highlight your chin.
Beautiful eyes? Straight or side bangs can be a great option.
Styles That Favor And Are Elegant Too:
Sophisticated bobs, bangs, long, beach curls (think of the surfer girl from California).
Styles That You Should Drop If You Have An Oval Face Shape:
Short layers that add weight at the top of your head. These can cause you to get an long face effect.
If your hair is curly, cancel a blunt cut. You'll look like a pyramid. A short style usually does not have a happy ending.
Try a shoulder-length haircut, or long enough so that the weight of the hair causes the curls to fall.
Oval Face Shape Celebrities:
Recommended Articles: