Using Moisturizer on Hair: A Complete Guide
January 8th, 2021 by Emily Stuart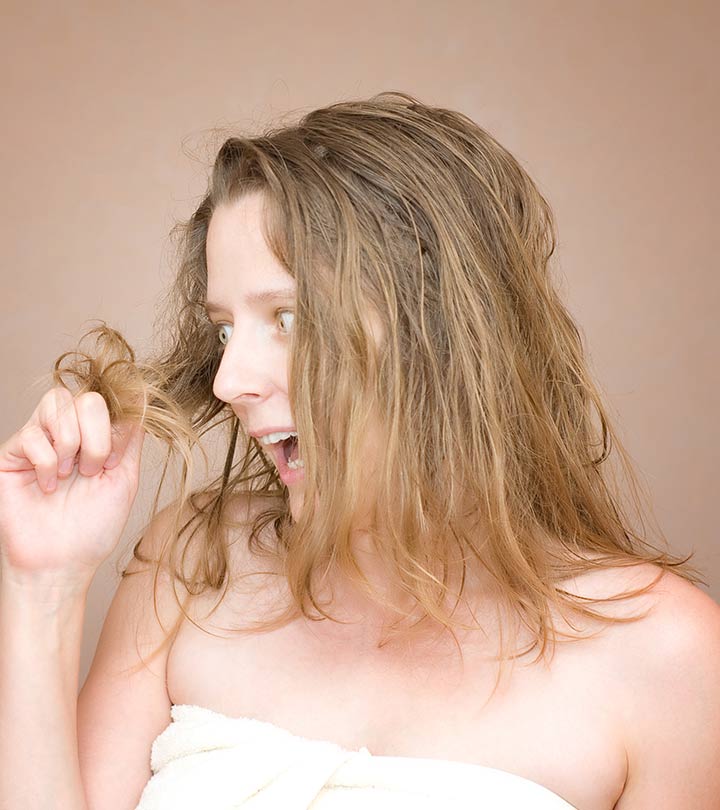 Now that I've caught your attention, let me apologize, your momma probably has really nourished hair. But just in case, it often takes a lot of effort to moisturizing dry and dull hair. It takes a bit of determination to fix hair woes like breakage, frizz, split ends, and frizz. It's important to make sure that your locks stay moisturized all the time to prevent dry hair. If you're looking for a long-term solution to lock in the moisture in your hair, continue reading to find out some smart tricks to keep your locks moisturized, hydrated, and healthy.
Keep in mind that hair has different types, so each type has its own unique needs. Therefore, one-size-fits-all moisturizing solutions are hard to find.  Luckily, you may find plenty of hair care products and tools in the market to boost your hair moisture. Plus, there are arrays of haircare remedies that can help you retain moisture in your hair, regardless of your hair type.
Reasons for Dry Hair
Over-washing. Did you know washing your hair makes it dry? Over washing your hair strips it of its natural oils, not only causing dry hair, but sometimes an itchy scalp as well.
Hair Products. Some hair products often contain harsh chemicals that contribute to dry hair. Specifically, hair dye and often cheap shampoos and conditioners.
The reasons may vary for why your hair is dry, don't worry we have the best methods to get that replenished head of hair back.
How to Moisturize Dry Hair
o   Hair Oiling for Moisturized Hair
Oiling is great to reverse hair damage due to excessive use of hot tools, chemicals, and exposure to pollutants. Promoting hair growth, regular oiling can make locks shinier, healthier, and stronger. By nourishing your scalp, oiling strengthens roots while keeping hair fall at bay and adding necessary moisture to your locks.
Although there are many hair oil types, it is important to choose the oil that suits your hair type and scalp.  Just like choosing the best shampoo, you've to pick one that gives out the best results for your hair.
It's hard to get any hair product that can replace oiling. You can do a scalp massage with oil to relieve stress and improve blood circulation, good for the scalp, hair, and keeping them moisturized. Always remember that a healthy diet is equally important as oils to promote hair health. If you have a malnourished body or don't have enough water intake, keeping your hair moisture levels up is impossible.
o   Use Good-Quality  Hair Conditioner
Never underestimate the importance of using conditioner on your hair. It is as important as nourishing your skin when it gets dry. Conditioner is an easy way to soften your tresses' appearance as it removes frizz and moisturizes them. No doubt your hair goes through a lot. Using certain shampoos, hot tools, exposing your hair to UV rays, fumes, and dust. The reasons are enough to make hair brittle, frizzy, and damaged.
Adding a high-quality conditioner to your hair care regime is a good way to rejuvenate your locks. It not only helps you nourish the hair but also guard it against toxins, pollutants, and, most importantly, heat damage. Plus, it provides the necessary moisture your hair needs to grow healthily while locking in the shine and lusciousness. We recommend a conditioner with Jojoba oil. Not only does jojoba oil moisturize your hair, but it also helps with hair growth and maintaining healthier hair.
o   Try Overnight Hair Treatments
Whether you agree or not, your hair needs some special treatments to stay in a healthy state. In this regard, hair care treatments may do wonders, particularly to retain moisture and prevent dryness. Just like you use nourishing skin treatments, hair needs different oils and conditioners to grow and shine.
Oiling is one way to keep hair moisturized, but most of its benefits depend on how frequently and for how long you apply it to your hair.  Applying it for one hour or thirty minutes is not enough to provide the moisture and nourishment your hair needs.
It is important to apply it overnight once a week to see the desired results and effects, especially if you use oils like jojoba oil, coconut, or Argan oil.  These oils need comparatively a longer period to absorb in the scalp and nourish hair from within fully.
o   DIY Hair Masks
Dehydration and dry weather are an integral part of summers. It is not only your face and hands that are exposed to the environment but also your hair.  From dusty winds, salts to humidity, your hair withstands tons of damaging entities. That is why your hair mask depends upon your hair type to keep it properly treated and moisturized.
Once you know your hair needs a hair mask, finding the right one is important to treat, hair is important.    Choose a hair mask that suits the needs of your hair and contains nutrients to promote hair growth.
For instance, you can look for these ingredients that prevent damage, moisturize hair, and add life to it:
Arctium Lappa (Burdock) extract
Limnathes Alba (Meadowfoam) Seed Oil
Tocopheryl (Vitamin-E) Acetate
Grab a high-quality hair mask and allow your hair to be thankful to you.
o   Stay Hydrated
You might consider it a trivial thing but drinking water not only can keep your hair moisturized but also strengthen it.
Let's break it into a simple question. How many glasses of water do you drink a day?  Is it more than seven?  Do not include water in the form of tea, slushes, or juices to answer this question. This total count should include only a glass of plain water with two hydrogen molecules and one oxygen molecule without any ingredients or chemicals. Now you must have an idea what we are referring to.
In short, you won't get anything healthier than water when it is about hair health.  The vital component makes up 25% of your normal hair strand.  And if your water intake is sufficient (two liters or eight glasses), it will help you improve your hair health.
Scientifically, your scalp needs proper moisturization. When you drink enough water, it provides the energy that speeds the blood circulation. This reduces problems like frizzy hair, split ends, and dandruff, many other problems that dehydration can cause. You can also cure scalp basicity by increasing water intake.
Summing Up
All in all, hair care may seem unbelievably easy, but in reality, when it comes to putting it to practice, it is a daunting task. It is especially true when it comes to moisturizing hair. The given tips are time-consuming; they can help your hair retain moisture and give you long-term hair benefits.