Trendy Coffin Nail Designs: Nail Art Inspiration
August 28th, 2018 by Janie Wilson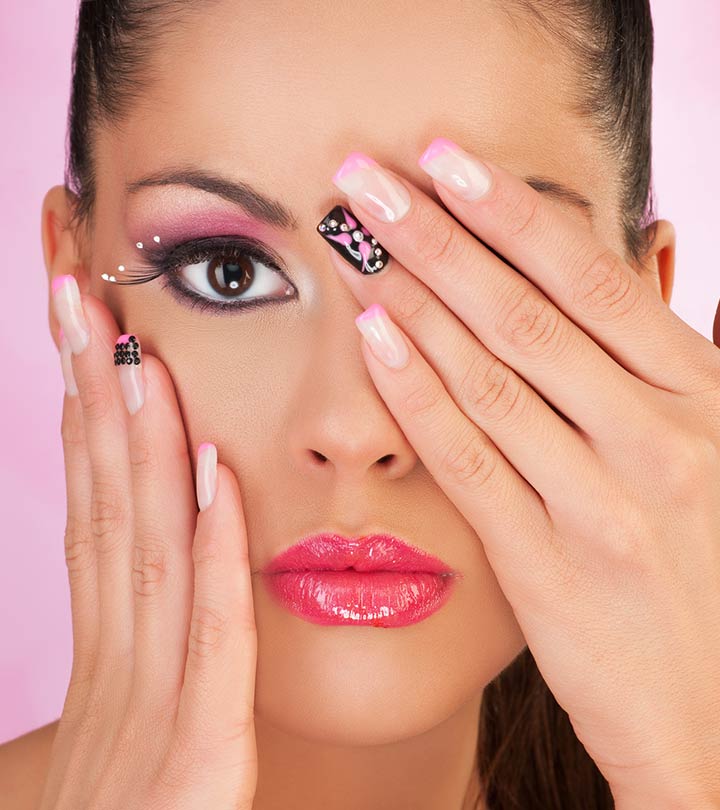 Coffin nail designs are also called as the "dancer's nails," have a precise shape and are very popular among women who prefer longer nails. The coffin nail design became fashionable in the 90s, and it didn't lose its unique charm till now.
This dual name (Coffin nail designs / dancer's nails) comes from the personal preferences of the people. People think the nail shape resembles a coffin, while others feel they resemble a dancer at the top.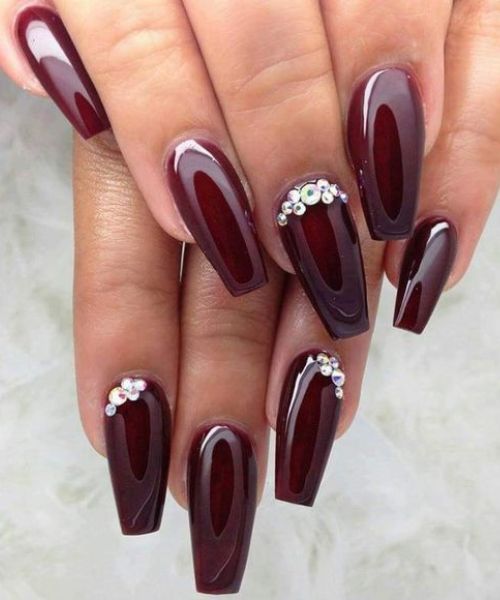 The coffin nail design is a combination of square and oval, and the feature of this nail form requires a longer length. This trend is not a design, but a style that is based on a different nail structure. The coffin nail design trend gained enormous popularity because, Kylie Jenner started using it.
Let's have a detailed look at the ballerina shaped nails, the options for beautiful nail designs, and we'll give you some useful tips on how to maintain your manicure.
Know More About Coffin Nail Designs
Every woman wants her fingers and hands to be well groomed, but it requires a lot of effort. Nail art reflects fashion trends as well as, clothing and cosmetic products.
Nail coffin designs are considered original and practical, and they are the choice of many bold women who do not fear changes in their lives.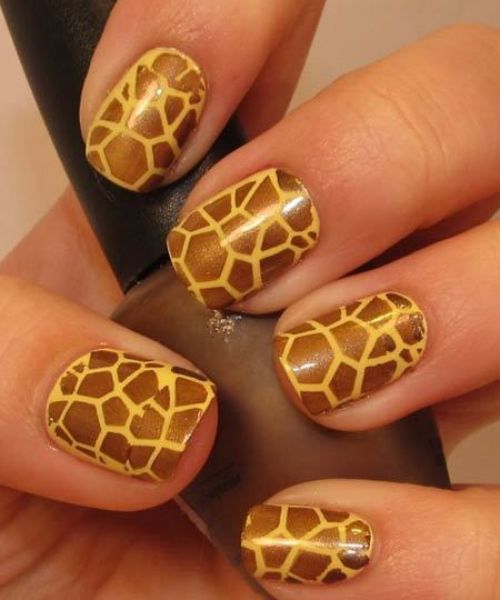 This coffin shaped nail designs are considered universal and versatile, suitable for women of all ages and it's ideal for all occasions. Also, it's beneficial for long, thin, short and thick fingers, since the shape gives them a more attractive and refined appearance.
NOTE: Despite the universality of the dancer's form, we recommend that you pay attention to the following considerations:
The coffin nail design is not approved if you have brittle nails, it is better to go with alternatives like acrylic nail designs. Women who actively participate in sports activities may feel uncomfortable.
Remember that due to relatively long length, this manicure may not be proper in office or under business dress codes or in the company. The coffin shaped nail designs are not recommended to women who has to work more with their hands.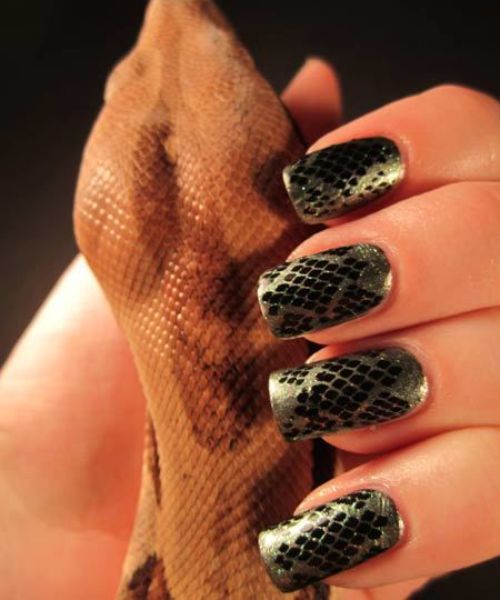 When choosing nail coffin design, it is better to opt for a color coating or a more sober. The most important rules are, the designs should have a fewer stones and patterns and minimalist decoration, clean lines, minimal crystals, and glitter.
SIDE NOTE: All types of nail decoration should be used moderately.
It is essential that all nails must have a perfect shape. Any irregularity will be visible and immediately attracts the attention. This shape has a significant advantage, the chances of breaking the nail are almost nil due to the square tips.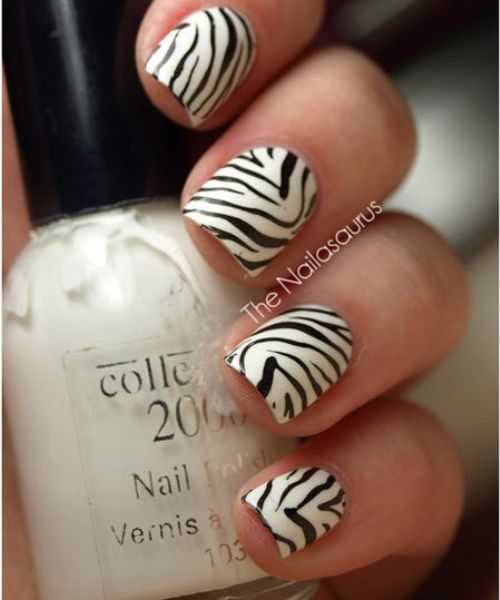 Length of the nail is a personal choice, but in general, the shape looks perfect on average to long nails. Let me remind you that the shape is not suitable for short nails.
Due to it's length, many women prefer to have such a manicure on  their wedding, for a festive event or an official occasion, as a complement to a beautiful dress. In daily life, you can have this design, but you should keep it a little shorter because you run the risk of conflicting with some of your activities.
How To Make Cute Coffin Nail Designs: Step by Step Tutorial
Most women prefer a nail professional to have their nails done, as this nail form must be accurate. However, if you prefer to work on your nails at home, we will give you guidance step by step with care and patience. A proper nail file can make the form of a dancer at home.
Step 1 – Length of Nails:
The first step for getting the cute coffin nail designs is to define the desired length. It's important to cut your nails before starting to shape them. Otherwise, you may end up with too long nails.
SIDE NOTE: This rule is valid for natural and artificial nails, but if you have nail extensions you will need a thicker file and special scissors.
Step 2 – Form A Square: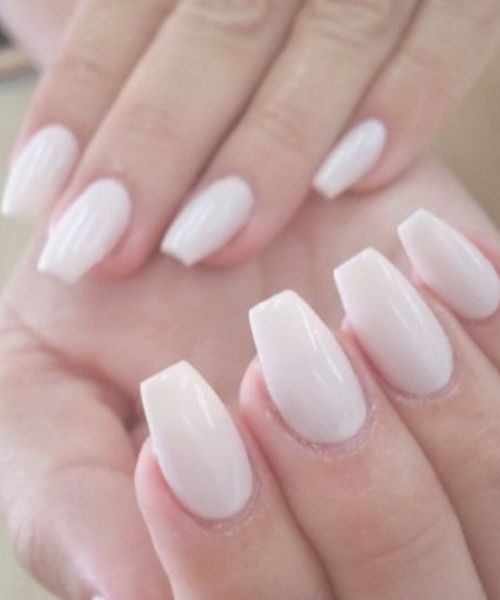 As we mentioned before, the coffin nail designs are a combination of an oval and a square. Therefore, start with the square shape. Once you have the square shape, you need to trim the upper sides of the nail.
For this, it is necessary to cut corners accurately and adequately. It is best to take a file of medium hardness not to elaborate and spoil the form. You need to work slowly and patiently while doing this step.
Try to keep all nails equal in length and shape at corners. If you are making acrylic nails at home, you need to use a tampon for a smooth curve, with the help of a nail file, you must refine the shape.
NOTE: Do not forget to cut the flat tip too.
Step 3 – Paint Your Nails:
Once the nail coffin designs is ready, clean the nails and apply a nutritious oil.
Coffin Shaped Nails Designs: Ideas, techniques and decorations.
The coffin-shaped nails come in a variety of designs, each season begins with new ideas and innovative trends. The Ballerina manicure is quite modest regarding decoration, but in spite of that, you should always remember that keeping the nails in form.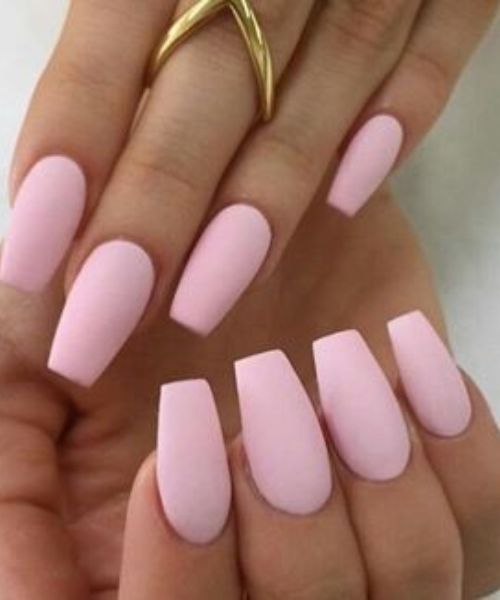 And remember the rule that we've mentioned earlier: The longer nails, the more sober decorations. This doesn't mean that you cannot experiment with different designs and styles.
The solid color manicure is a good solution for coffin shaped nails designs, and you can choose a matte finish or give your manicure a luxurious shine, if you follow fashion trends.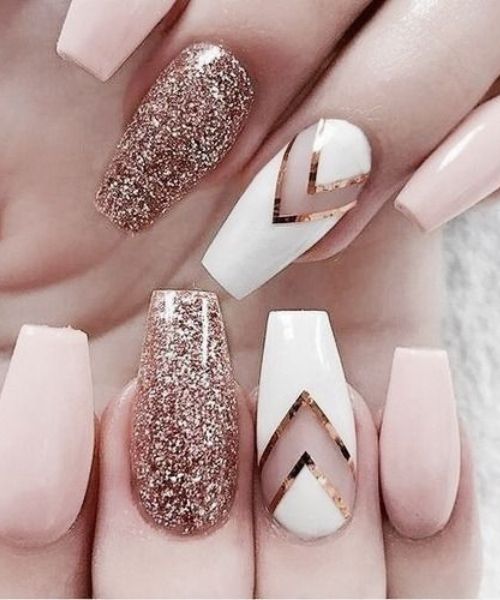 You can even combine matte and gloss shine that will make the design look more exciting and attractive. As an alternative, you can consider ideas of bare nails that work very well for this design.
The color depends on the desire of a woman, the attire or the dress for the occasion. Gentle tone colors are the most helpful, but if you are looking for a modern nail color, you can choose between dark blue, chocolate brown, burgundy or gray.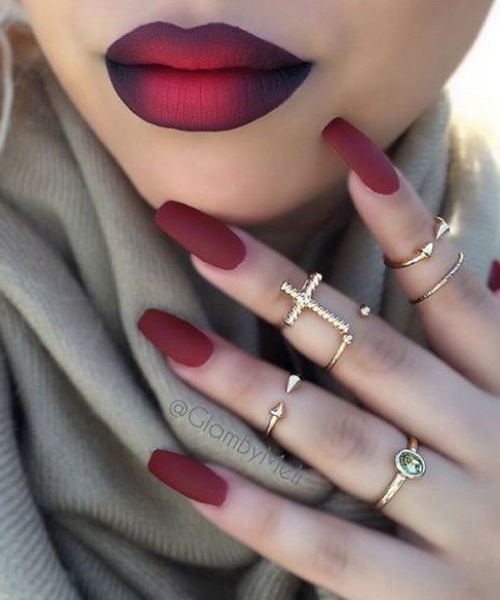 Bright red tones give a luxurious look to the manicure, which is not very typical, you can choose neon colors, especially for summer nail designs.
The dancer nails decorated in black color look very fancy. If you feel that the black color is more suitable for a Halloween nail design, add some crystals, rhinestones, glitter, a pattern, geometric patterns in opposite color or negative space for the manicure to look fresh.
Let's have a look at a variety of coffin shaped nail designs that will inspire you to do some experiments.
Manicure party: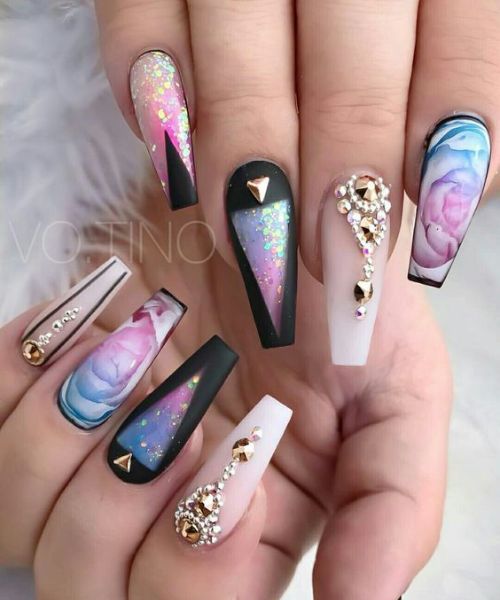 If you want to be the queen of the party, add a little shine to your nails, but do not overdo it. Consider a simple rose base and gold tips. This manicure will look very good on very long coffin nails.
Disco Coffin nails: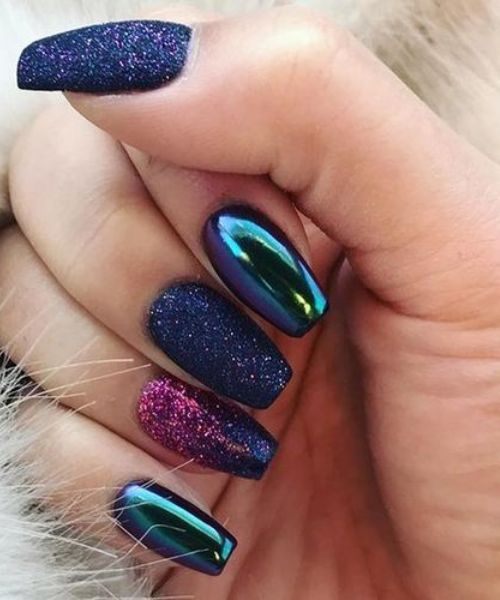 The more shine you add, the more "disco" your nails will look. Start with a pink base and shimmer from the polish of silver and gold lines. Add bigger crystals, and the nails shine like the disco ball.
Cleopatra's Coffin nails: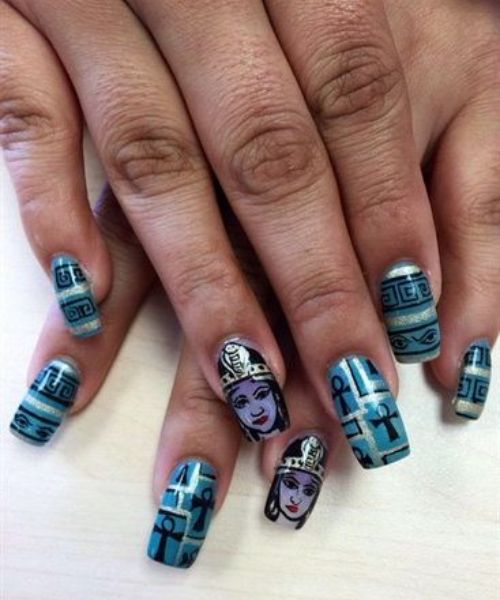 Do you want to be the queen of Egypt? Mix black and gold. You can color most with black nails and then go for gold. Use a clear base, black lines, and golden crystals.
French Coffin black: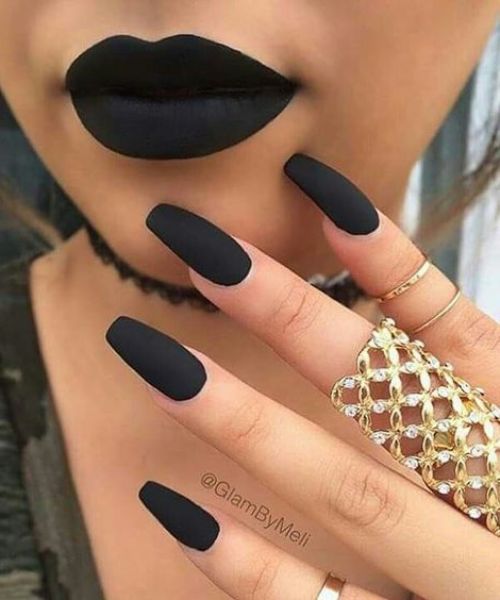 French black manicure looks especially remarkable on dark skin. Make the base black glossy, the tips clear and outline with a white line. Such nail coffin designs will make you look fantastic.
Mixed Pattern Coffin Nails: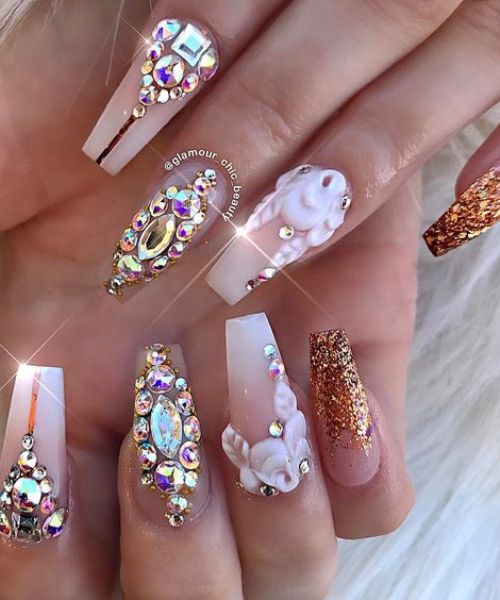 Stripes, flowers, moon, rhinestones – all these nail designs look great individually. Why don't you mix them? You will love the result!
The Dark Toned Coffin Nails: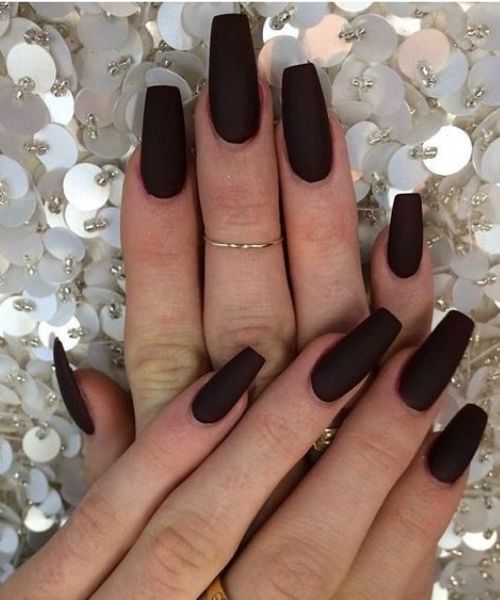 Brave women who are not frightened to experiment with darker colors this is for you. Brown tones are often tricky, make it useful. Everything is desirable with good nail art.
Snow White Coffin Nails: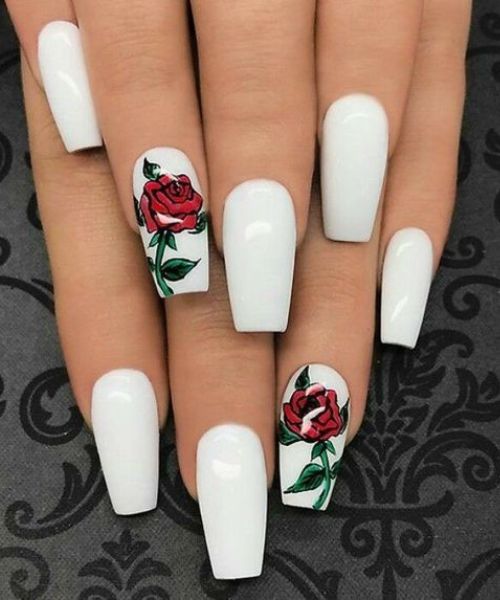 Grace a princess for a few days, through the nails of ivory white with a little shine. This truly real manicure will make you feel special till it lasts.
Double line Coffin Nails: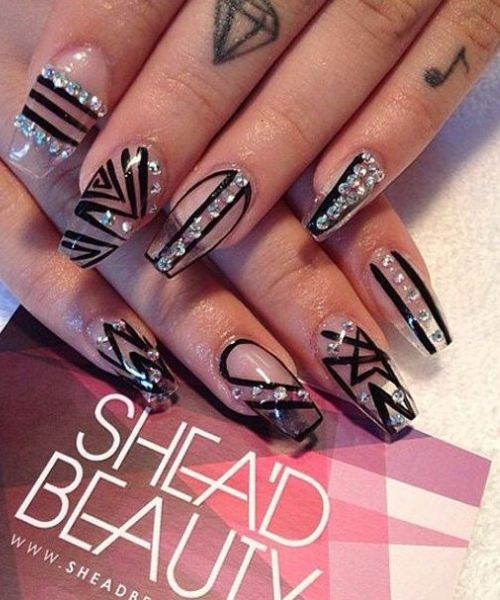 The use of double lines has become famous. Why don't you use them? People have been testing for years. The nail polish will look more impressive if you add a pair of gold lines to the tip.
Canonic black Coffin Nails: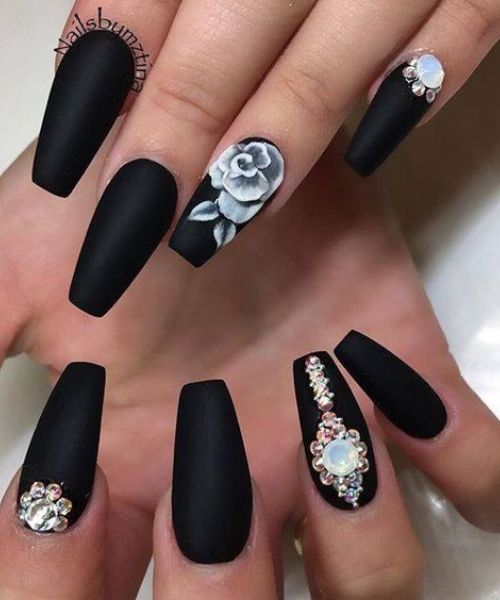 Black coffin nail designs are the classics of all. Everyone should try this! But if you're not into dark and dull colors, you can change the darkness with a bit of brightness. See how fast the image will change and you will love it!
​​Long and Pink Coffin Nails: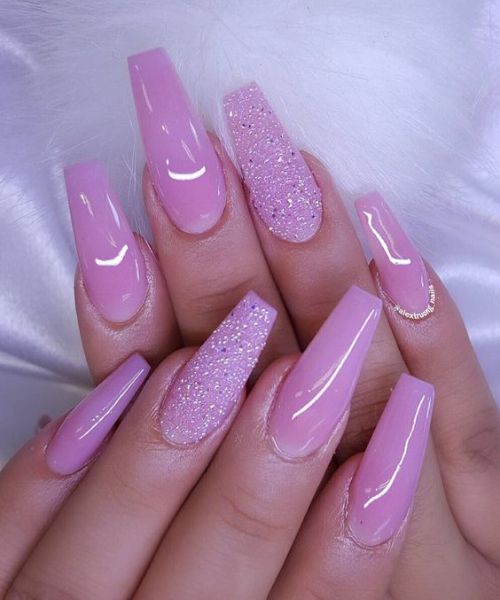 If you're feeling bored going out for the manicure when the nails have grown long and you need something unique. Try a simple and delicate pink color. It looks awesome!The coffin shaped nails are perfect for many different designs. All you need is make sure it suits the occasion. We hope that this wide variety of options will inspired you to master the complicated nail art. If not, a nail stylist can always do the best work for you.
Recommended Articles: