Have Perfect Nails: No More Salon Visits!
June 1st, 2021 by Candis Hall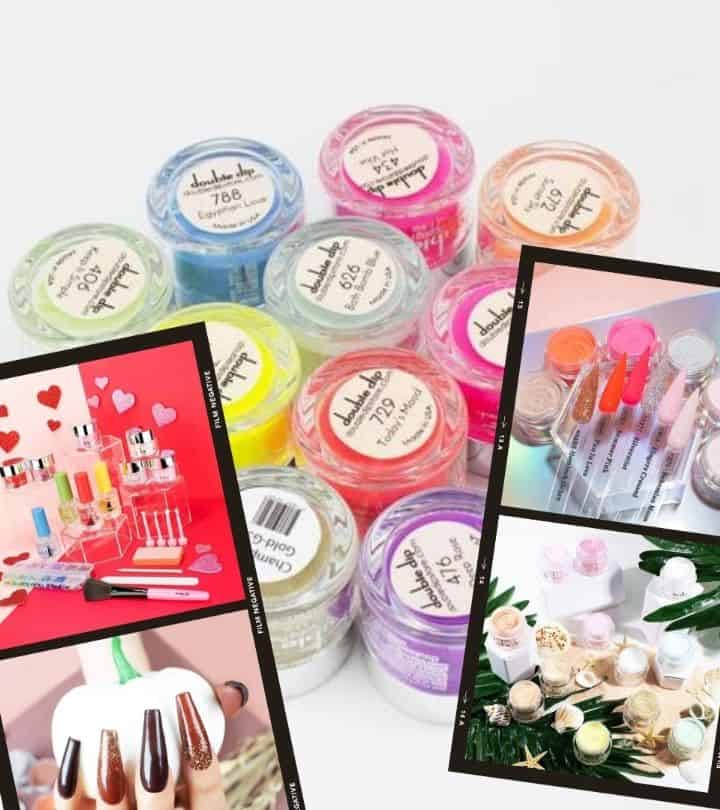 Having your dip manicure done at the comfort of your home has a lot of great advantages. Not to mention, it is the best solution to do your nails,  especially during this covid19.
Plus, everything's on the internet now! Whether you're new or a pro, there are tons of amazing video tutorials and educational articles that can help you start your experience of a hassle-free dip manicure journey, without having to visit the nail salon spa! You just need to have a lot of patience and determination to explore! 
Ahead are simple ways to keep your nails looking perfect when you DIY your manicure at home. Let's start, shall we?
Buy a Double Dip Nail Starter Dipping Kits
Let's not lie to ourselves here. It's nice to pay a visit to your favorite nail spa and treat yourself for your nails. But who wants to spend that money when it's way more convenient to do it at home and the way you want it, too!
We make sure to provide the best nail dipping powder kits at Double Dip Store for beginners and for nail professionals! It's a woman-owned company that prioritizes women's needs without ruining their budget! We provide nothing but the best at-home dipping powders starter nail kits . All of which have the highest quality and undeniably beautiful results!
But first, PREP! 
Prepping your nails correctly is a priority.
Make sure to invest in your own essential nail tools. Place them into a clean on-the-go portable tote bag.
Alcohol
Nail-polish remover 
Cotton swabs or pads
Nail clippers
Cuticle pusher and nippers
Cuticle remover
Replacement Brush Tips
Bamboo Pusher
Buffer
Filer
Hand or Cuticle Nourishing Oil
Base coat
Top Coat
Activator
Brush Cleaner
Wanting to achieve a flawless manicure without prepping the nails first is a big NO!
With any nail products on natural nails or extensions enhancements, whether it is nail polish, dipping powders, or a full set of tips, nail preparation is the most essential. This important step dehydrates the natural nails and makes sure to have dust, bacteria-free and oil-free natural nails to work on.
Some nail salons may use vinegar as a pre-mani soak, but that's a no-go. Acid in vinegar could make your nails dry and brittle and this can weaken your nails. You can however use vinegar on your feet to help rid of any unwanted bacteria but generally this isn't needed for your nails. A dry manicure is so far the best option, based on research.
Pick the right nail shape that suits you best
In spite of all the trendy nail shapes nowadays like the Coffin or Almond-shaped nails, it turns out that the round or square-round shaped nails are the safest and best option for those who are busy, hard working people out there. Due to its smooth curved shape, there's no need to worry about it snagging your clothes or chipping your nails!
Always make sure to buff the edge of your nails
A nail buffer should be in every household. It's a major essential to make sure nothing is left hanging off your nail or to rid of any unevenness. When your nails are filed quite a bit, your nail buffer can provide an extra overall smoothness and clean the remaining debris underneath your nail. This additional step can really make your nails look clean and smooth like you came right out of the salon!
Here another manicure tip: Always make sure to file in one direction on your nails especially with the sides—this ensures you aren't disturbing the fibers of the nails.
Apply the product in three strokes.
One stroke and you're out? Not so fast! They say a professional way to apply your polish is in the middle and then to the sides. Few, thin strokes would make it clean and simple! However, as long as you can get full coverage on the nail, you're still good! This method is different for everyone, and so it really depends on the comfort level for any individual.
Make manicure maintenance an everyday thing.
After all your hard work, a handful of good habits can lengthen the life of your DIY manicure. For example, you can wear gloves when doing the dishes or any household chores. This can protect your manicure from wearing off and reduce the exposure to any dirt or harmful chemicals. Another thing to pay attention to is how often you change your nails. Don't wait too long or too soon to take off your nail set. Redoing your nails too soon can be risky and weaken your nails. Waiting too long can result in your nails breaking or lifting. So if you see your nails are getting old, it's best to maintain and redo them so that your nails can remain healthy and strong. Lastly, another good habit to have is keeping around a good Cuticle Nourishing Oil for your nails. It is a great investment which can help your natural nails to stay moisturized and healthy!
Double Dip Cuticle Nourishing Oil is a must-have! The smell is so addicting and it really does the job.
By doing all of your own manicures at home, you're in full control of how you would like your nails done. You don't need to worry about your nails getting damaged anymore! Not to mention, you don't need to worry about sharing your products with people you don't know. No risk of retrieving an unknown infection or disease from other people, now isn't that a plus!
And most of all, you can save so much money just by simply doing your nails yourself. You can change your nails as much as you want and whenever you want! Imagine all the choices you can make when doing your nails, all that freedom and creativity you can have when doing your nails. Isn't that so exciting? Therefore the question is, why risk our health or waste our effort and money when you can have it easy with these dip powder kits? It really boils right down to that! 
Double Dip Store has the easy to use kits that beginners and nail professionals can use to create gorgeous nails! It's the perfect present you can give to yourself or someone special!
So here at Double Dip, we got easy-to-use long-lasting at-home dip powder nail kits you can try out. All of them being PETA-approved to be cruelty-free and vegan, very budget-friendly, and so easy to use!