Skin Care Write For Us = Guest Post And Writer For Inkbeau Blog!
March 12th, 2020 by Diana Ross
Love All Things Skincare? Then Pick Up Your Pen and Write for Inkbeau!
Skin is often touted as the first line of defense. Just like the rest of the body, it requires care. If you are knowledgeable in skincare products, take great care in choosing ones that are suitable for your skin, and wish to share your skincare regimen with the world, then welcome to Inkbeau. 
When you write for Inkbeau, you share information on everything regarding skin, woman! 
Join our community of Skincare bloggers who are just as obsessed with their skin as you are! 
The knowledge you share on your blogs will help our readers understand the best approach to skincare according to their skin, and they will indeed thank you for that.
Pitch to us at info@inkbeau.com.
What We Look for in a Guest Blogger
Good knowledgeable articles related to skincare with a word count ranging from 1000 to 1200.
Maintain a conversational tone throughout the article.
In-depth knowledge of the subject and an expressive way with words.
Ability to write on a range of skincare products, everything from cleansers and moisturizers to exfoliators and face masks.
Images used, if any, must be royalty-free and not subject to copyright.
Subheadings and bullets to be used when necessary.
Hand in plagiarism-free articles with good flow and structure. 
Keep the content local. It should match up with local sensibilities and requirements.
The article you submit must not have been published anywhere else. The Google algorithm doesn't appreciate repeats. It does no good for either of us to get flagged.
Share articles in MS-Word format (avoid PDF files, please). 
Feel free to look up our blog for sample posts or articles.
When you provide tips, also share the relevant details:
How will your tip be helpful to readers?
Who would benefit from your tip? E.g. Someone prone to acne
Anything else that could help your readers?
Skincare Write For Us Topics
Anti-aging, Skincare, and Face Care Tips.
Home remedies, Perfumes, and Fragrances.
Skin Woes, Acne, Face Masks, Face Packs.
Body Contouring, Waxing.
Botox, Facelift, Scar Removal, Chemical Peel.
Spray Tan, Skin Tightening. 
Rejuvenation, Facial.
Body Care, Body Products.
At Inkbeau, we also welcome articles on a wide range of content other than skincare.
Makeup Write For Us Topics:
Bridal Makeup, Innovative Makeup Ideas, Celebrity Makeup.
Facials, Henna, Mehndi Designs & Art.
Eyelashes, Eyebrows, Microblading.
Lip & Eye Makeup, Nail Art & Designs.
Haircare Write For Us Topics:
Dry & Oily Hair Care, Hair Growth.
Dandruff & Hair Fall Remedies – Both Home and Commercial.
Haircuts – Braids, Blowouts, and Updo.
Hair Extensions, Lowlights / Highlights.
Hair Colouring, Hair Care Ideas & Solutions.
Hair Replacement, Bleaching & Removal.
Submission Requirements
**IMPORTANT** – Before submitting, please review your submission to ensure the guidelines have been followed. 
Avoid trying to publicize a product or service via your submission. The purpose of guest blogging is to share knowledge and not gain commercial benefits in any form. 
One outbound link per article is permitted. 
The title should be eye-catching and kept to a maximum of 70 characters or less.
Maintain keyword density between 1-and 2% and ensure that they fit in naturally.
What to Include With Your Submission:
Name
Latest picture (optional)
Short bio
Website & a short description
Social media handles if any
What You Gain?
Additional publicity for your website and social media profiles. 
Establish yourself as a reliable source of information in the makeup, beauty, and skincare community.
You will be able to display your author bio at the conclusion of every post you write, giving you full credit for your work, along with a link to your site and social media profiles.
Your submissions will reach our social media followers and your bio, gaining your publicity.
Disclaimer
Inkbeau will review and approve all submissions and reserves the right to accept or refuse submissions.
Editing the submission may be carried out for any spelling and grammatical mistakes.
Inkbeau retains all the rights associated with any submitted content. Once accepted and published on Inkbeau, submissions cannot be re-published anywhere else.
Any plagiarised submissions will be summarily rejected.
If you are willing to adhere to these guidelines, then you can forward us your submission! 
Email your article to: info@inkbeau.com 
Upon receipt, we will review your submission and revert to you within seven business days. At this time, we do not offer monetary benefits for submissions made to Inkbeau.
What More Can for My Piece of Content After It's Been Published?
You are encouraged to engage with comments your posts may garner.
Attract publicity for your guest post with the help of social media and word-of-mouth.
You could reach out to us for any modifications you wish to see or if you wish to rephrase any redundant information.
A Side Note:
If you wish, you could become a regular contributor at Inkbeau. As long as the content shared is relevant and meets our guidelines, we will publish it. 
If you have any queries, feel free to get in touch with us at info@inkbeau.com or connect with us via our social media handles.
Note – We receive a lot of requests, and we want to attend to all. We will revert to you as soon as possible. Stay tuned!
AHREFS SCREENSHOT: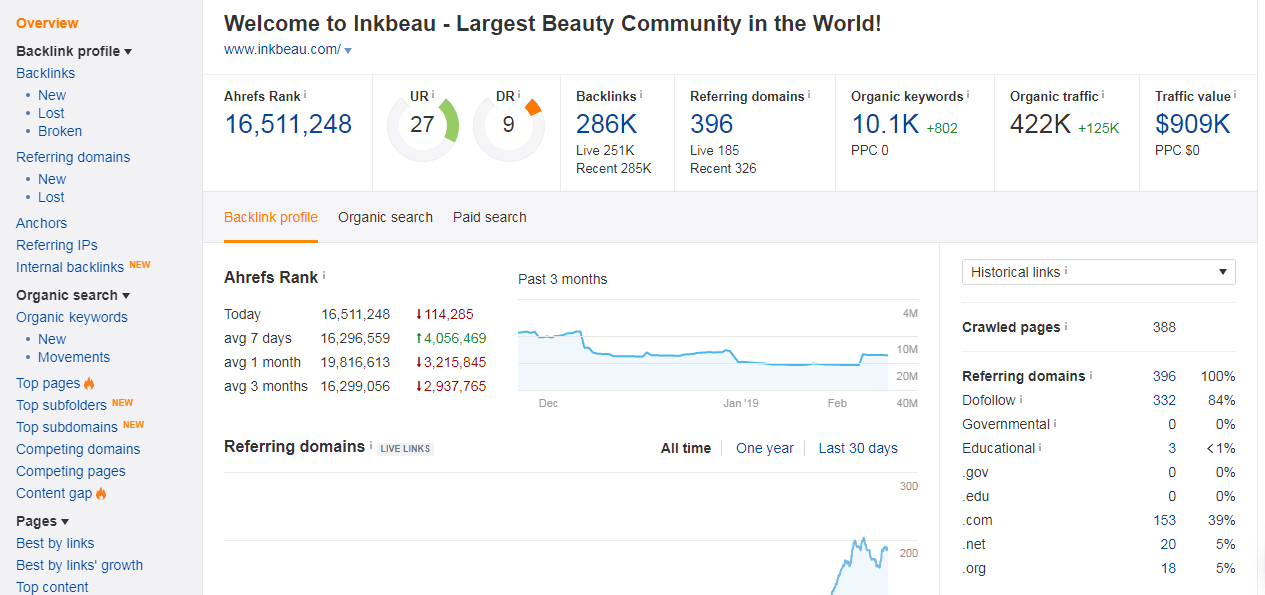 GLOBAL ALEXA SCREENSHOT:
MOZ SCREENSHOT: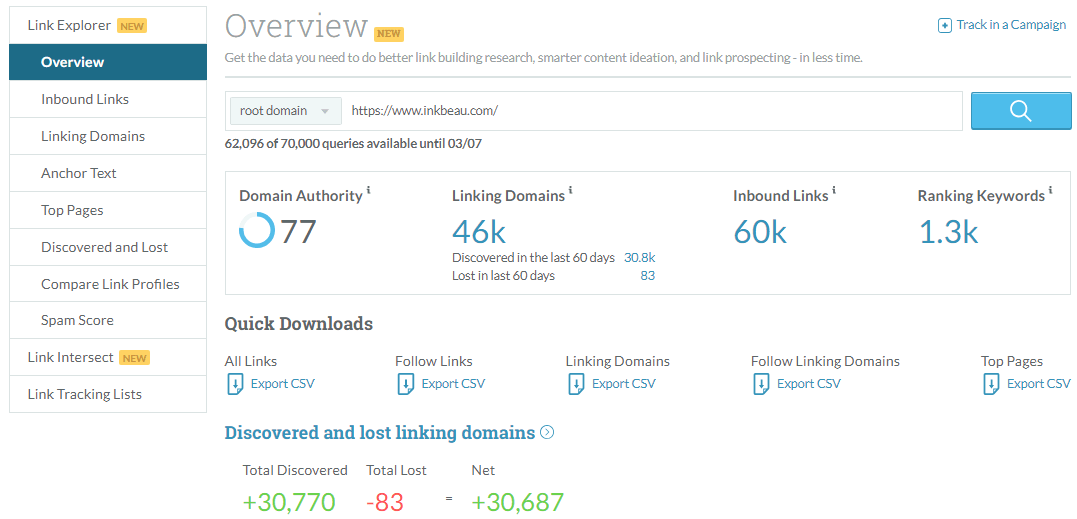 SECURITY: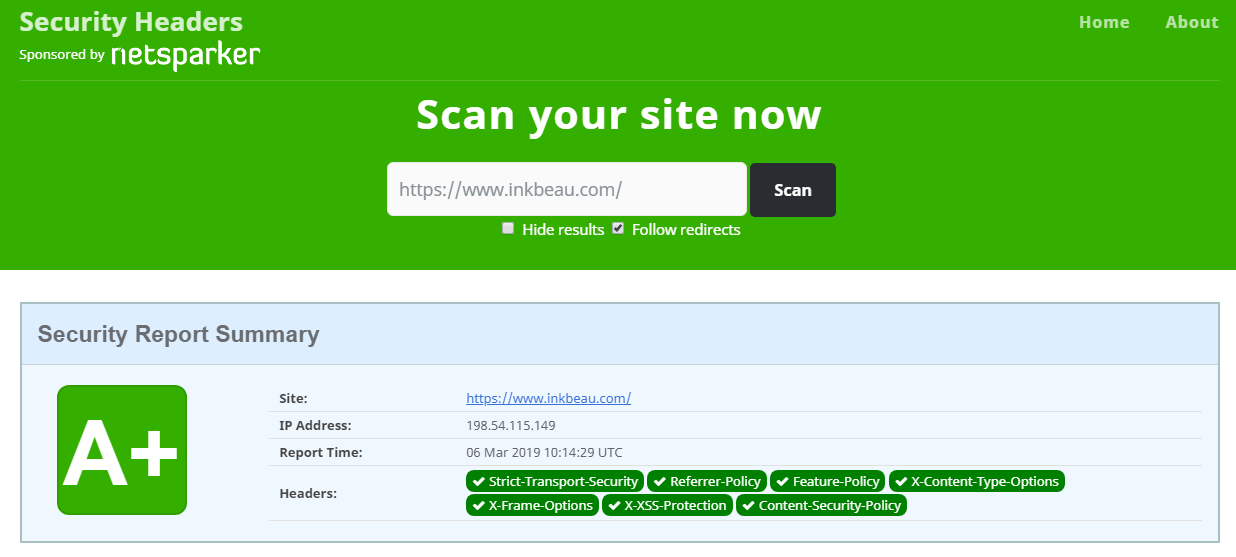 SEMRUSH: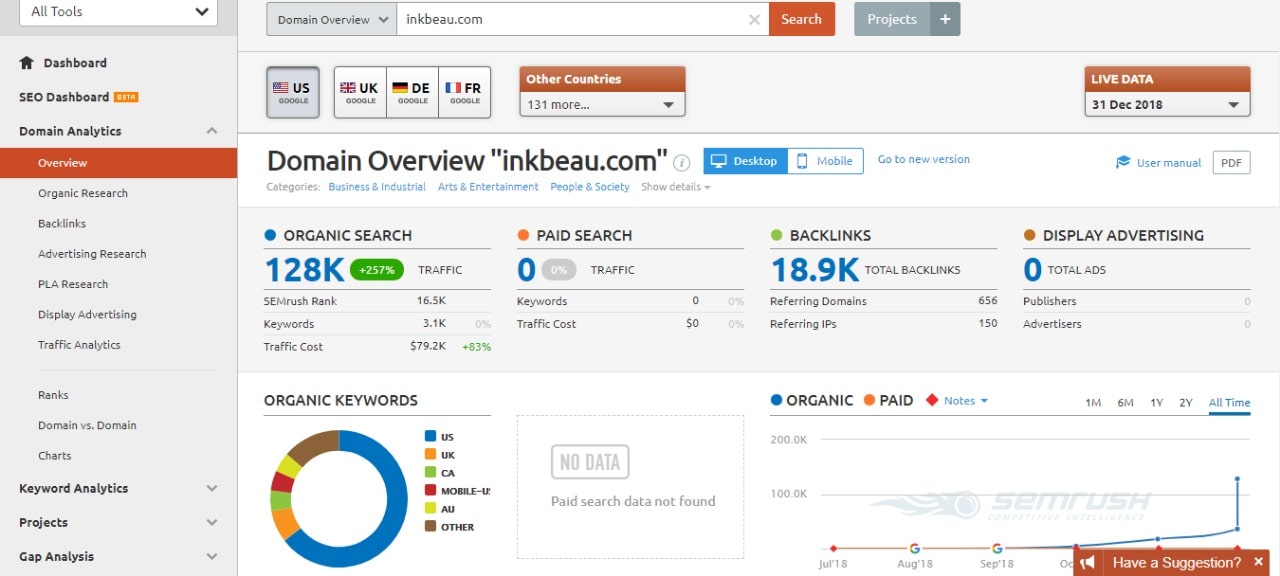 Our Other Services:
Health and Wellness Tips Write For Us