Discover 18+ Online Erotica Sites Similar to Literotica
January 30th, 2019 by Candis Hall
Literotica: What Is Literotica?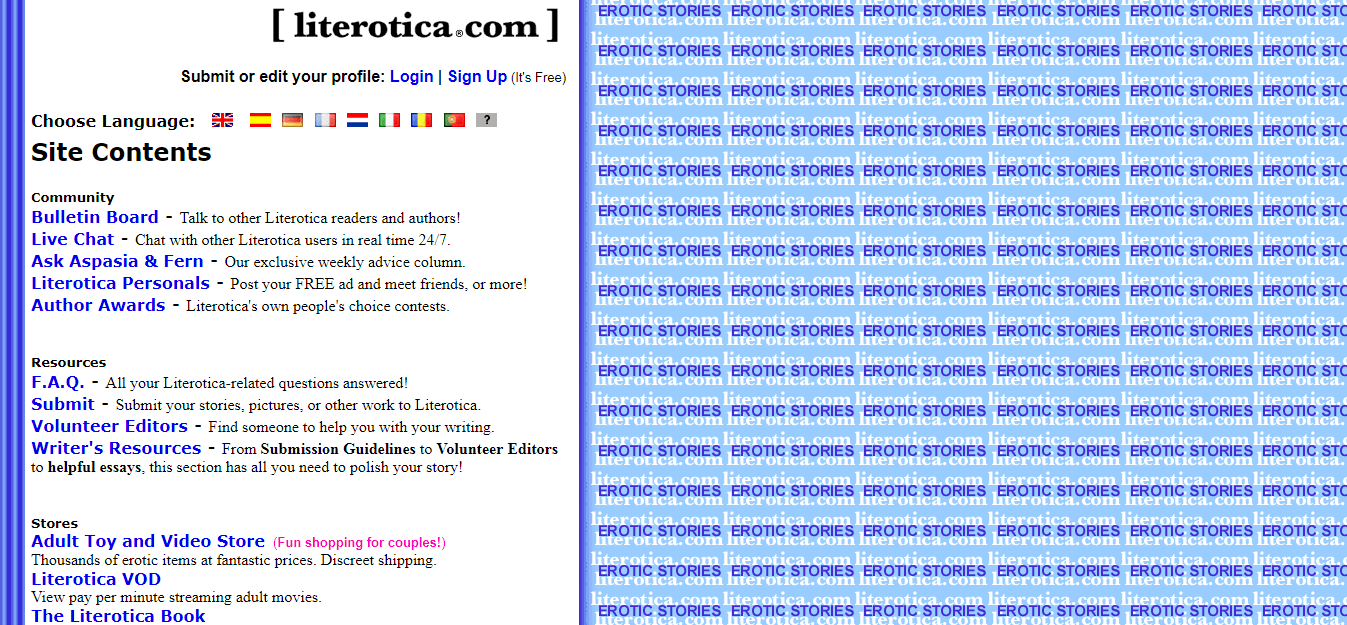 Do you want something different? Literotica is an adult website where you can read erotic stories and articles sent by the users.
You will find stories in all categories, which are listed on the homepage. Homosexuality, Fetishism, Mature among others with also taboo topics like incest … The number of stories in each category is noted, and there are thousands. If you like to write, you can send your own stories, and you can also vote for the different stories.
If you are looking for something extra, there is also a forum and a live chat so you can interact with others. A good site, and completely free!
Pros Of Literotica's
Free erotic stories
Categories
Cons Of Literotica's
Site Like Literotica
18. BDSMcafe
17. NovelTrove
16. BDSMLibrary
15. MCStories
14. FictionMania
13. IndianSexStories
12. Adult-FanFiction
11. StoriesOnline
10. xHamster/Stories
9. LushStories
8. Chyoa
7. TheKristenArchives
6. SexStories
5. ASSTR
4. Nifty
3. History-Erotic
2. Stories-Of-Gender
1. XStory-EN
18. BDSMcafe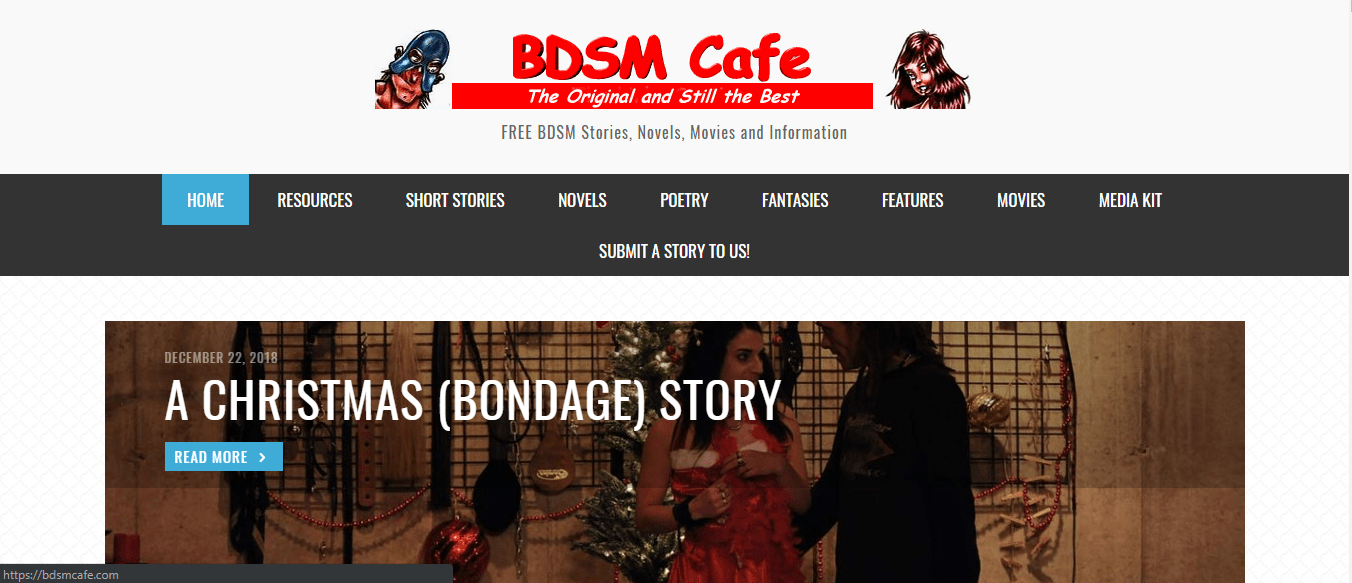 With "Fifty Shades of Grey" the "Sado-maso" (Sadomasochism) side has returned to the forefront and very popular in eroticism. If you are looking for online erotica stories, you will be thrilled with this site.
The design is modern with short stories, news, added regularly. It is very easy to use, and you will quickly find the desired content (in English).
When you click on a story it will load in your browser, there is no option to download it, but you can make a simple copy/paste to save it in Word (or other) and print it. Tags are available on the right to filter the stories.
Pros of BDSMcafe
Free Sado-maso erotic stories which you rarely find in Literotica.
Short stories & messages.
Cons of BDSMcafe
17. NovelTrove
Well, we used to see some erotic books on the shelves of bookstores, but have you ever read some of these erotic stories online? The era of books is probably over, and the internet replaces old grimoires. Your evenings will not have the smell of ink, but that of eroticism online. As a result, noveltrove has created this website to help you read the best erotic stories like Literotica.
Noveltrove.com is one of the best sites like, and it invites you to travel to a world of sex, love, fantasies, desire, and lust. There is no advertising, and you can send your own texts if you are a good writer. It seems they have stories in all possible niches: anal, swinging, mature, Sado-maso or lesbian. The latest stories can be found directly on the home page, and there are competitions that you can enter to show your talent.
The navigation bar provides links for stories and to see the authors. It's free, and the design of Noveltrove is very, and it sticks very well to the theme of the site. Last thing: If you win a contest, you earn money. The proper technique to get a little money.
Pros of NovelTrove
Competition with prizes
No ads
Free
Cons of NovelTrove
Users wants to see, not to read
16. BDSMLibrary
If you like online erotic stories, then you will love BDSM Library. It is filled with stories focused on different fetishes like literotica.com
When you land on the site, you will see the latest stories added. You can click on it and read it entirely or in different parts. There are no categories, but you can read the top rated, most popular and most extended stories.
The website contains not more than Sado-mado stories, but if it's your cam then this is the perfect place!
Pros of BDSMLibrary
Cons of BDSMLibrary
Advertising banners
Popups
15. MCStories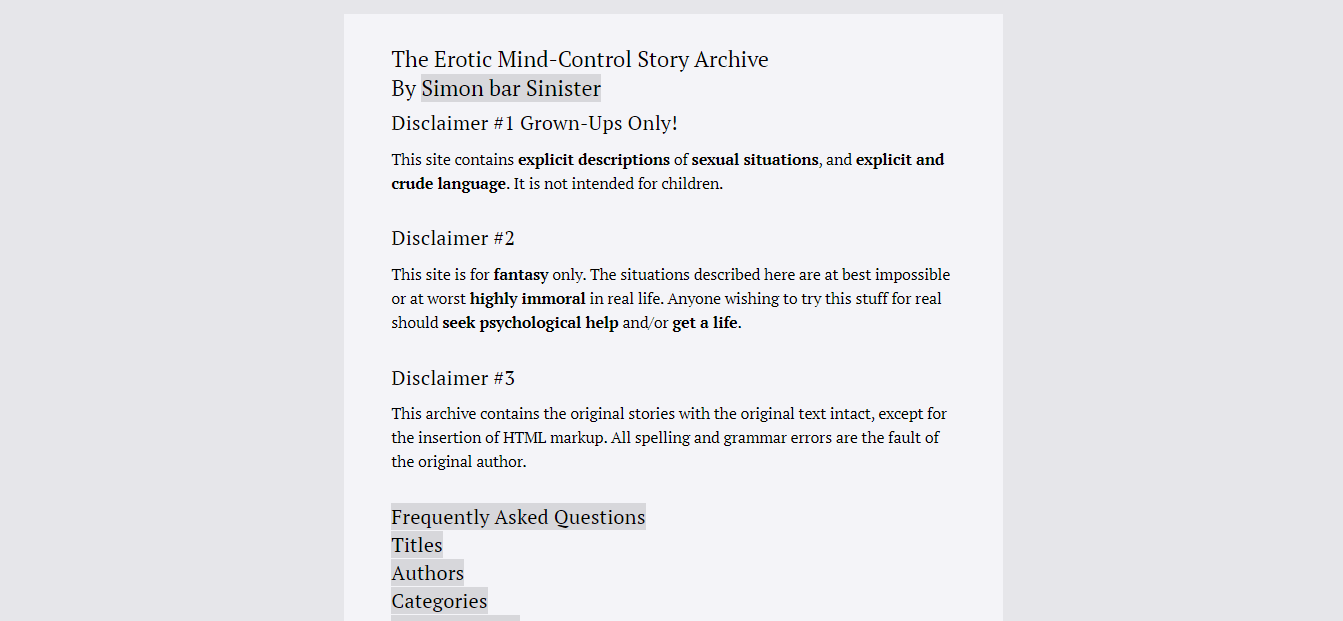 In the field of Literotica stories, I think that one of the most underrated aspects is the world of erotic stories. For this reason, I present you MCStories.com which proposes a superb archive of stories and erotic texts to read. If you think that "Fifty Shades of Grey" is the only erotic book, think twice.
MCStories has forbidden stories, that is things, fantasies that authors will never do in real life but dare to put on paper. Of course, be careful, it is only to distract oneself, it is necessary that morals remain safe.
Stories are categorized with titles, authors, categories, and site owner choices. There are about 10,000 stories so if you like that you'll have something to do. And according to us, this is the best alternative for www.literotica.com.
Pros of MCStories
Cons of MCStories
14. FictionMania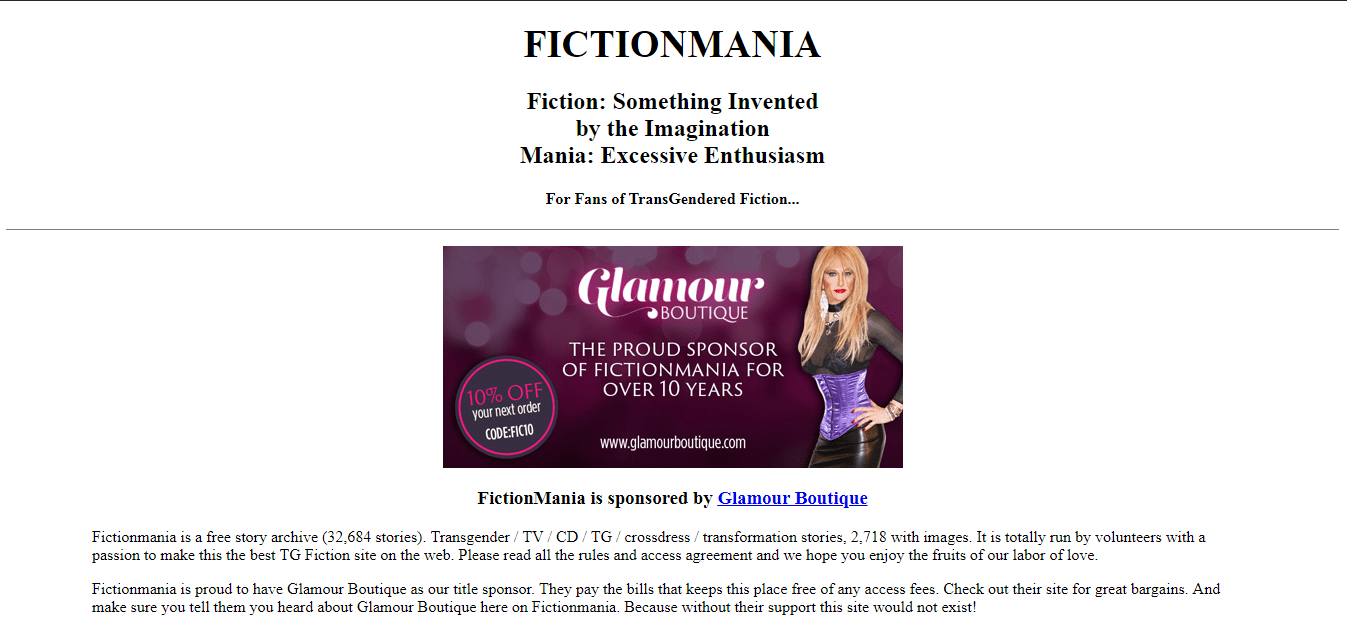 Many sites offer erotica content, and the first thing they will show you is a "Warning" page that usually looks crappy, while the whole site looks good. That's exactly what I thought would happen once I visited the fictionmania.tv website, because their warning page was a hell of a mess.
However, this website did not update. When I opened it, everything stayed the same. When I say that the design of the site is simple and easy, I mean this site gives me the impression that I woke up in the '90s, or even when MySpace was actually a thing.
Also, keep in mind that this site presents itself as a totally transgender site with a lot of stories and erotic images. So, if you were looking for sites like Literotica, I'm happy to tell you that you will not find it here because all the erotic stories are lit up enough; as much as I have explored them.
I had to talk to you about design because I'm sure you'd be wrong on this site for a crap announcement or something like that because that's exactly what this place looks like. I feel that they have hired a novice programmer who just graduated from school to finish designing their site. I'm sorry, but I can not say that this site existed in 2019.
After leaving my bag, I feel much better!
The first tab, titled "Fictionmania", should be pretty straightforward, do not you think? Basically, you will have here thousands of detailed fictional stories always featuring a hot transgender person! I mean, everything on this site will feature a sexy tranny, so I think there is no point in repeating it now.
If you have questions or would like to talk to other users, you can visit the 'Message Board' tab that allows you to do this. You can discuss everything about ladyboys, story ideas, and new stories or even make constructive criticism about different stories that could help writers improve. However, be sure to read the rules and on this section first.
You can become a member of their community, which means that publishing and all this will be easier for you, whereas if you want to publish as a non-registered person, everything will be much slower. Honestly, if you are going to visit this site a lot, why in fact you would not make your registration? This process is free and fairly simple, but I suggest you read their rules before creating the account.
Once you become a member, you can start exploring the "New Stories" section, for obvious reasons. In addition, for those who have a particular unreasonable taste for such stories, be sure to open the 'search' part of the site, because there you will have some options to list.
There is a "categories" tab in this section, but it does not work as everyone wants. You get the categories, but if you want to see the stories in this particular section, you will have to search for it by the date
Now, another confusing part of the site is the 'Title Images' … I know what's going on here, but I do not understand why. Basically, you have images and you can add titles or text to them, and this helps to contribute to their system and all those shits. It's not worth talking about anymore, so if you're interested, check it out.
All in all, I would say that people who like to read erotic stories like that of literotica.com and do not care about the site looks, will surely appreciate their visit on fictionmania.tv. This place is filled with only stories of transsexuals, and many articles also contain pictures, so keep browsing and find the naughty online erotica!
Pros of FictionMania
All transsexual stories are free
Some stories have pictures
Become a free member!
Cons of FictionMania
The design looks like we're back in the 90s
The site is quite confusing, check the info page.
13. IndianSexStories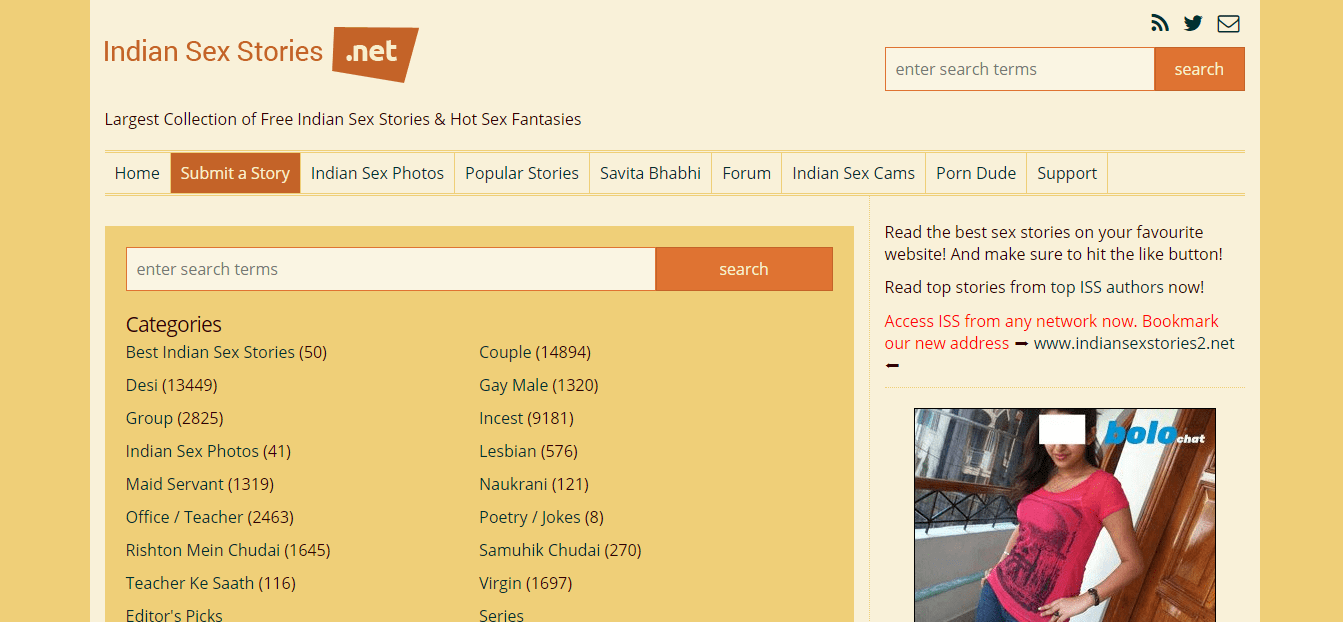 This is a fetishistic fantasy that, I did not think, has its dedicated website. Named Indian Sex Stories you guessed it, yes, it's a site that offers Indian erotic stories.
Indian Sex Stories has thousands of stories in its archive. There are more than 12,000 for the category "couples" that is to say … You will find stories about virgins, teachers, and others, gay and straight with a predominance for the hetero.
The navigation is very simple similar to literotica.com, and the stories are well presented and super readable. Pleasant to read and made by different authors. The length varies, and some stories are based on real facts. Anyone can submit their story, so if you have a talent for erotic writing do not hesitate.
Pros of IndianSexStories
Thousands of erotic stories
Directly sent by users
All Indian fantasies
Cons of IndianSexStories's
Lack of publicity (Could beat Literotica stories if promoted)