Literotica Alternatives – You'll Love Reading Them!
January 30th, 2019 by Candis Hall
6. SexStories
Welcome fans and authors of erotic stories! Do not be surprised by the retro and cheesy design. There is a reason for this strange design, the site is the property of XNXX and we know how much they love this blue color. So as I told you, SexStories is a platform that welcomes everyone: writers, fans or anyone who loves erotic literature!
It's a bit confusing when you are on the homepage. They explain the operation of the site: a large collection of erotic texts and sex, it's quite simple to navigate, no ads, and everyone can put their own text online, free. Below these explanations you will find the main sections of the index: the top-rated stories and the latest added (for 30 days).
Each addition has its own tags such as dark fantasy, bisexual, group, young and old women over 60, mind control, female domination. Some of them are identified as "True story"! For me, it is this most important tag. Here, these are examples, for you to use the sidebar to see everything, you will find here the genres, themes that will suit you. You will know how many stories are available for each theme. There are hundreds of thousands of stories available, it's like paradise…
Go down a little to reach the section that covers the latest stories added, the best (of all time), the most read, the least read (I like that they also give their chance to those), the less well rated (similar) or those that have not yet received any rating (you may be the first to note).
If you are a writer and want to post your sexy stories, sign up and follow the process (you will find the dedicated button in the top left corner of the site). It only takes a few minutes. I'm a writer in my spare time but I will not send anything on the site but I only do on www.literotica.com. I do not want to devalue the work of others, my stories are so good. I only write about my site!
SexStories is great, one of the best sites in this category. If you want taboo stories, erotic texts or hard, if you want to discover the sexual adventures that can happen to people, visit the site! You will not be disappointed!
Pros of SexStories
Filled with content
They put your stories online
Full of different genres
Cons of SexStories
The design all rotten, grrr!
5. ASSTR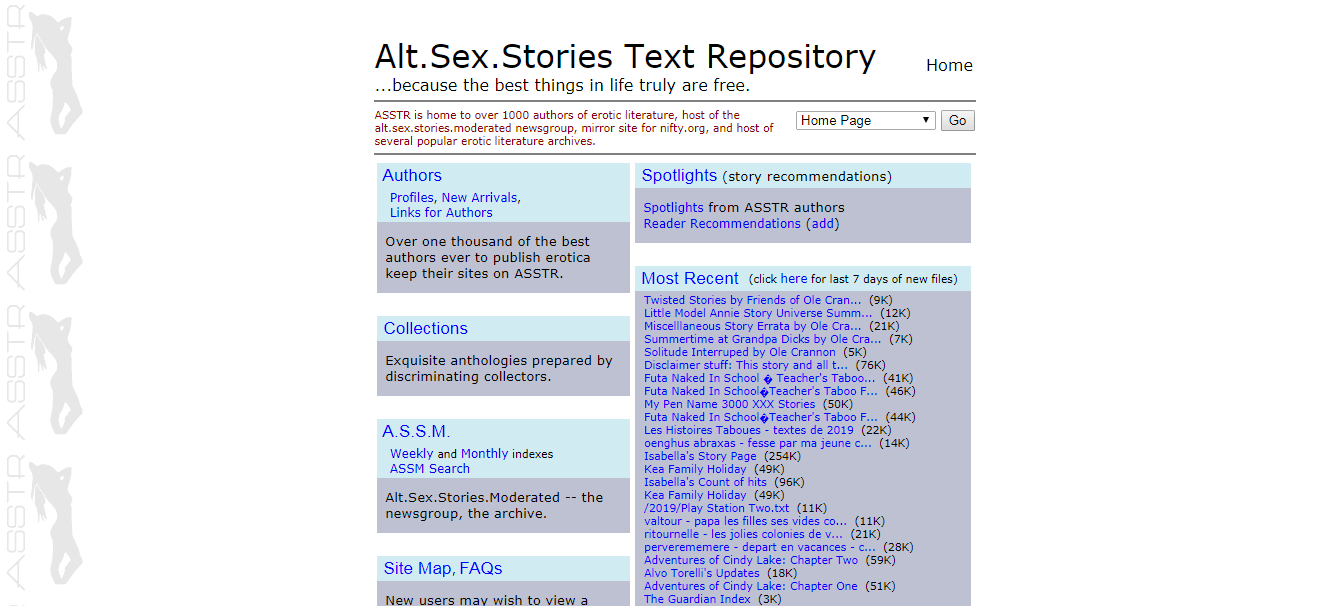 By seeing the name of the site I thought of falling on a site with beautiful women! But I was wrong! Asstr is a site of erotic stories like literotica.com. Once you have passed the disclaimer you have a list of the latest stories added.
If reading stories are your thing then here they are free and sent by users. Find a story with a title that you like and go. If you click on "Collections" you will have a kind of list of categories with for example Asian stories, Humiliation, Anonymous emails … etc.
There is also a search function on the home and a drop-down menu with the most downloaded, resources for authors and other stuff. Maybe you will send your own story?
Pros of ASSTR's
Cons of ASSTR's
4. Nifty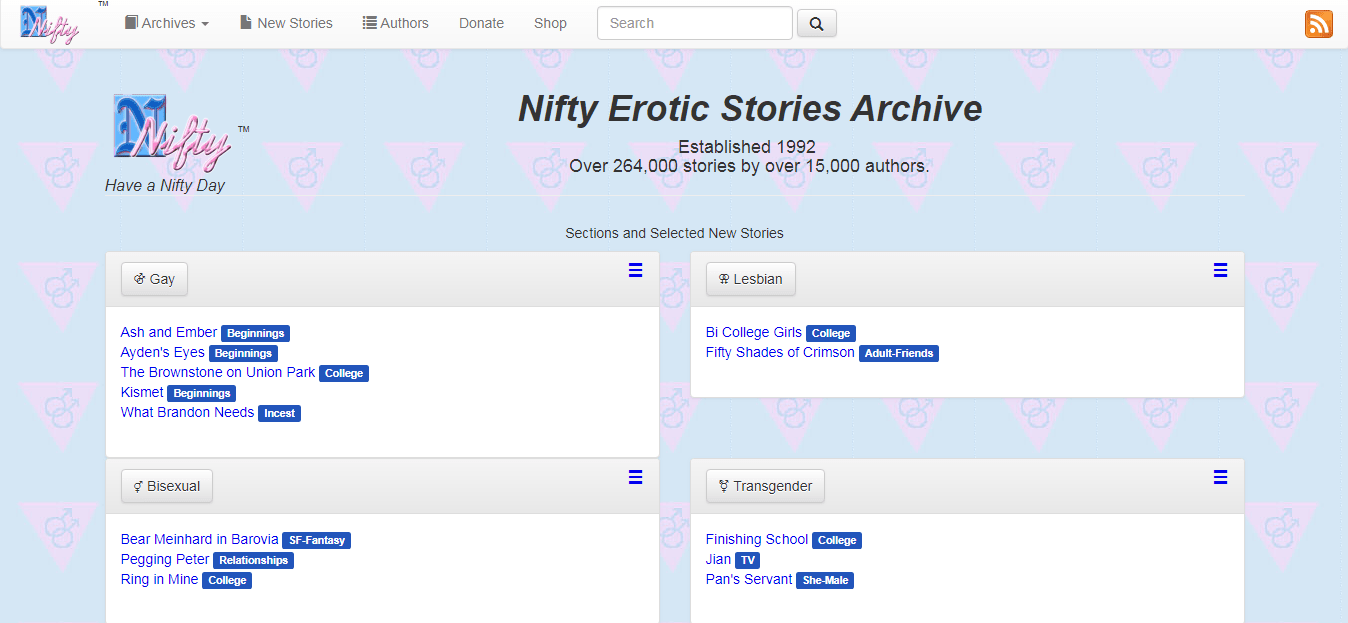 I have always said that the world of erotic stories is underrated by people. There is a real pleasure to read stories with fantasies that cannot be realized in real life. Today I discovered Nifty.org and I must say that it quickly became my favorite site after Literotica to find nasty stories.
The site is super old, it has been around for over 20 years and has more than 200,000 stories. There are about 10,000 authors who offer you the best of erotic literature. The site is updated very frequently with news and you will find beautiful and super horny stories.
Nifty offers plenty of alternative stories for Literotica stories and the biggest category is "gay". They also have bisexual, lesbian and Trans if that tells you. There is also a special section where you can read stories not found elsewhere.
Pros of Nifty
Hundreds of thousands of stories
Free
Cons of Nifty
The presentation is a bit old
3. History-Erotic
As I always like to say, we are all different in what makes us hard, so even if I'm not a fan of sites with erotic stories, that does not mean that I will not make an objective criticism on it. That's why I'm here to help you discover the French site histoire-érotique.org, I'm sure that those who enjoy reading Literotica stories will appreciate this site.
Since this site is quite natural, I do not think you'll have any problems with navigation unless you visit an erotic stories site for the first time… in this case, you are either too young, or you live in a cave. Personally, I cannot empty myself on such stories, I need to see real Literotica videos rather than just read stories.
After, I'm pretty sure most people who read these erotic stories are lonely women who try to look pretty with no makeup and have nothing better to do with their lives. You could even read these for the story and not for fun, and frankly, it makes it even weirder. Anyway, I'm sure you'll find a lot of different stories that you'll enjoy here, and I'll tell you everything you need to know about history-erotic.org.
The home page and the look of the site are basic, I cannot say anything good about it, but as far as I have nothing negative to add … so let's stop on "the design is completely dull". At the top you will have all the options you will need with filters on the side that you should also use.
You can choose to search for stories by location, type, characters, and theme. On the side, you can filter the search by the most popular, the best rated, the most commented, the most recent, by best authors … basically, the usual crappy of this kind this site. When you click on the top suggestions, you will have a menu from which you can choose what interests you.
After, my only criticism here is that the menu offers important things but everything is written in small font … I almost had to come up to my screen to see the font they had written, and it pisses especially when the rest of the site is giant.
The search options you have are pretty basic, but they should be enough to help you find you want to read. You can choose categories like fetish, couple, trans, interracial, mature, etc. There is also an option to choose where you want the story to unfold; like at the office, at work, or in an elevator. As I said, I think the search options will be enough to help you find the naughty stuff you want to read.
In the last menu, there is the "type" of history, you can choose between three different types; fantasy, true story, and romance … when I searched these options, I realized that their menu was messed up on several points. For example, when you click on the buttons at the top, the first two work perfectly, but the other two are denied. You will not be able to click on anything because it closes as soon as you try…
So I'm wondering who is the genius who missed this mistake. I do not want to offend anyone (I do not care anyway).
Anyway, I'm sure you're here to take a look at the stories, and not to talk so much about design, and I just read some stories just to be able to say what to expect. What's great is that it's a French site, so you can't understand anything unless it's translated. Most erotic sites are in English so it's a good change.
Each story will tell you the theme, the characters, the place, and the type, which will help you decide that this is the story for you. These are all stories written by members of the site. On the side, you have an option to sign up or login, and you can do that for free, which is nice. Once registered, you can post your own Literotica stories and comment on those of others.
The stories I read are mostly fantasies where a lot of weird stuff was going on. From aliens to more realistic stuff where your favorite characters can enter your dream world kiss you to death. Everything depends on your preferences, and although I'm not a fan of erotic stories, I still found some interesting than literotica.com.
I'm sure if you like to read erotic stories, and if English is not your strength, you'll enjoy the stuff on history-erotique.org. This site is filled with stories in French, and there are quite a few, not to mention the fact that you can create an account and post yours if you want.
Pros of Erotic-History
Cons of Story-Erotic
Ads
Some features of the site are dull
The site is French.
2. Stories-Of-Gender
histoires-de-sexe.net
Sex Stories is fully filled with content created by users. And even if the majority of stories are ranked X you will discover, reading this review, that there are also other topics. Everything is written and available in French and I must say that it is a real minus point. That said you can also give the link to your correspondent in the US, it can be translated into English… The site welcomes you with a photo of a sexy girl, completely naked, lying on her back, legs crossed and breasts covered by his hands. That sets the tone for the site.
Right to erotic stories. There are so many, impossible to read everything. They are displayed from 2017 to 2003, yes in that order. I have not seen any article added in 2018, it is a little strange all the same. Is the site abandoned? That being said, you still have something to do with all the stories that are available here. The stories are well sorted and it's very easy to navigate from one year to another or from one type of content to another.
Click on a random month and you will have the complete list instantly displayed. I can see some translated stories, sometimes a little awkward, but the essential is there, heavy! I read a story, in particular, written by "Basleg" in July 2017 and it started like this: "The heat s' fell on that day in July, already 7 years ago now. The girls were beautiful, most skirts with their legs unveiled, revealing hidden treasures to those who know how to look where it takes … "We can clearly see that it will go into a spin …
In addition to being well ranked the stories have a list of tags, and that we like a lot. It allows, besides choosing the same style of the story if the one you read you liked, to know a little what it speaks. The one I read had, for example, the tags "holidays, fellatio and coarse words" can directly know what it speaks in a few seconds…
Still, about the stories, we were pleased to see that there were plenty of options to display the stories, we can sort them by date, by the author, by sexual orientation, the most commented, the latest uploads, the most read. You will definitely be on top and end warm with all those words. You can even read these stories in the subway with the mobile version, painard, in Châtelet next to granny…
There are hundreds of authors on this site and we can display all the work of each of them. You can see the complete list by clicking on "Authors" on the homepage. You can then sort them by alphabetical order, sex (there are male and female authors), the most prolific, those with a profile picture. Some have written more than 20 stories. You too can become an author if you have an easy pen. For this, you will need to register to be a member of the HDS community. In addition to being able to write your own prose, an account will allow you to give your opinion on the stories of others and to have access to your "personal space". Registration is completely free and takes just a few minutes…
There is even more animation in the small ads part of the site, this is where users and members give way to their fantasies by putting online ads (sometimes with Literotica videos) super-hot. We can find the following topics: Gangbang, Bukkake, Domination, Extreme Sex, Sexual Positions, Inserting Object and many more. Even if each of us has different desires and fantasies, the ultimate goal is the same: pleasure. You'll find some really cool stuff and really hot stuff like www.literotica.com. I could see for example a guy who was looking for a hottie 40/50 years for a contest, his wife no longer love to cut pipes since they had 2 children together…
In addition to small ads, you will also be entitled to a full section of Literotica videos. In the end, it's like a porn tube, filled with videos. You can sort videos by categories. You will have the choice between young beautiful black women, Spanish, and much more. The videos are in Mp4 format and in Full HD quality. You also have a preview of super good quality. By cons you cannot see them directly on the site, no streaming, it will download directly to your computer. I saw a video which was almost 1 GB.
There is not much else to say, the design is simple. That being said, the navigation is super simple and easy to understand. The transition from one section to another or from one story to another is easy, it's great!
The experience is just perfect, there is almost no ads, the only ones I could see being in section classifieds, and discreet.
In the end, Stories-de-sexe.net is a great site for those who love the stories horny, varied, and well written. There is plenty of prose available, in every conceivable category. The authors are quality and numerous, several hundred. A site to really not miss if you like this kind of content available on sites like Literotica.
Pros of Stories-Of-Sex
Thousands of erotic stories to read
Niches and categories
Perfect user experience
Hundreds of authors
Cons of Stories-Of-Sex
No story posted in 2019
No video streaming
1. XStory-EN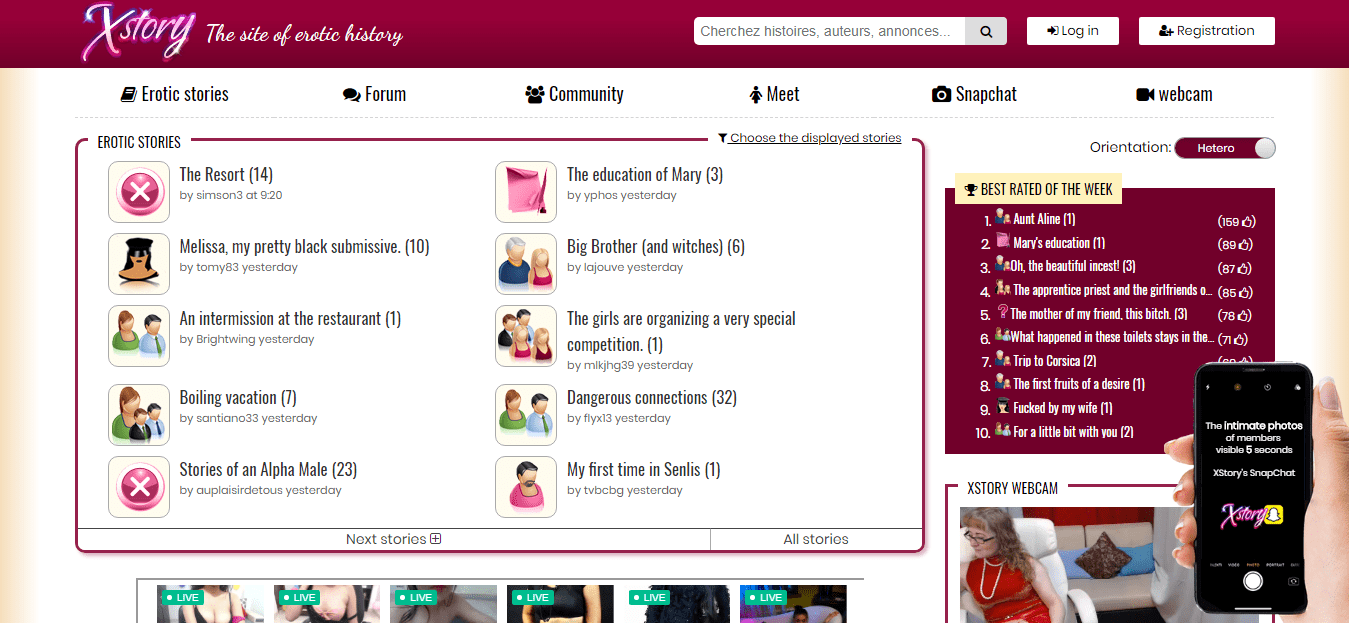 The site of erotic stories! Well, it starts to smell right from the beginning of this story. You feel directly the excitement that rises, finally, at home I mean, you I do not know but you should. Xstory-fr.com is a site that has existed for years, since 1999 to be exact, an eternity on the internet scale! As the name suggests this site is filled with erotic stories written by real writers or amateurs. It is a place of exchange with a real community where people who like this kind of content come to talk to each other on the forum.
From what I could see it seems to me that there are many women with tattoos on the site, but maybe I'm wrong, but the profiles on the forum still look very feminine, even if some can be guys who pretend to be women with emo hair, a gang of little rascals! After that seems normal to have many more women, this kind of content is known to please more women than men, but I still like it. We can say that it is born for women but not exclusively for Korean women, we will say that…
What I like about this site is that it is fluid, clear, and clean. What I mean is that in addition to the stories we can also find a webcam section and a dating. I can tell you that at the time of writing, there are more than 2,252,230 registered members! Yes! Almost 2 million and a half! Amazing no? We are at least sure that we will not end up talking to robots like "Ashley Madison".
I like to see erotic stories with images, I like to read stories with mothers-in-law, daughters-in-law and it speaks of beautiful little smooth. I do not want to have to imagine the scene too much, I need concrete! This is what I like in this kind of site, the fact of being able to make a "film" by having images that propagate in our mind and which are mostly different for each person. It takes imagination, and of course, everyone does not think the same, which makes these stories all the more interesting. X Story is a site entirely in French with an unthinkable collection of stories available. We can find categories, straight, trans, everything is possible. You will read trash stories, incest.
Sorting the stories is very simple, and that's cool. They can be classified by longevity, notes, authors, date of addition etc… It is so super easy to find a new story to read. Each story can be liked or not, you can vote according to your feelings. You can write a comment or even a suggestion addressed directly to the author. It's really great! I read some stories and I must admit that I found them super well written and exciting like Literotica! I was able to create a whole imaginary around the text that I read… These are sensations that we find only here. After I also came across some pretty bad stories, you have to be honest, there are so many choices that obviously not everything is fantastic. But it'
Another thing that I really liked about the site is the writing classes. Everyone does not know how to write a story and there you have the basics (and even more) to get into this challenge. How to find inspiration, how to write an introduction and a conclusion without being mistaken, how to know everything about this art and become the Victor Hugo of erotic history (or almost). And of course there is also the community, the site being online for 20 years, it is obviously necessary to speak of all these people who give the state of mind to the site.
This community involvement in the forum, the number of open topics and the answers to it can be appreciated. It also helps to realize that many women with couple tattoos (in any case here) are quite "open" minded, and you will revisit your judgment on female sexuality. We can, for example, find women with mehndi designs who claim to have as fantasy the fact of being fisted… I did not think I read that one day! Like what!
To get the most out of Xstory-fr.com's experience (often misspelled as "x-story") I suggest you sign up. Registration is completely free, like the www.literotica.com. Nothing hidden, no scam (that's good), you choose your nickname and go! Start interacting with other members of the community, remember that the main theme of the site is eroticism and stories. Of course, there is sometimes a bit of hardcore but mostly soft. In the end, we can talk a little about everything on this forum and that's what is super nice. We talk about everything and nothing, in a relaxed and sexy atmosphere. It feels good to find places like this today! A super cool site with a concept that still works 20 years after its creation. The design has not changed too much since the beginning but it is not the most important is not it? For you to discover this great site … You will love!
Pros of XStory-EN
Super community
Nice forum to chat with members
Cons of XStory-EN