Style Inspo: 7 Timeless Round Sunglasses for The Scorching Sun
March 16th, 2021 by Brown Traci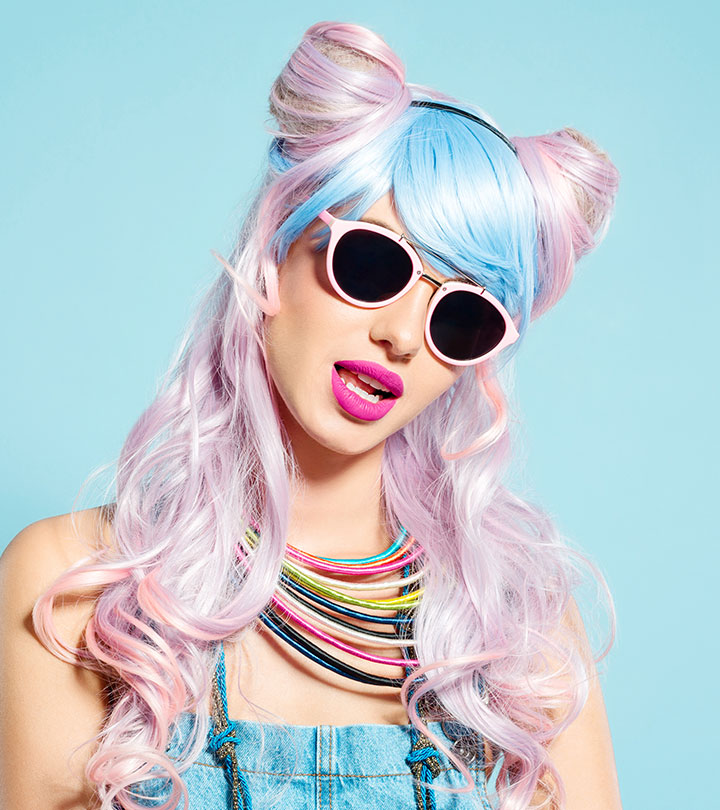 Well, round sunglasses have been around for a good time and have tiptoed around being trendy and fashionable. Round sunglasses lend a modern look to a classy style frame, and no one has ever worn round frame sunglasses in a more iconic way than John Lennon. Today round sunglasses are available in a variety of different styles and trends. They exist as vintage, retro, or mirrored. These timeless sunglasses can never go out of style.
We bring you an exclusive range of trendy round sunglasses that are designed to make a statement even under the scorching sun.
The Edgy Golden
The classic round sunglasses for women by Fastrack are inspired by the legendary John Lennon. This is one of the most popular rimmed sunglasses that offer 100% UV protection. These sunglasses feature pink colour lenses and metal hinges, English style nose piece and flexible temples. Rock your stunning outfit and make a fashion statement with these round sunglasses.
The Mauvy Mood
Another vintage and retro-classic design, these black coloured rimmed, round sunglasses from Titan will give your casual and dull outfits a funkier and a stylish spin. The tinted purple coloured lenses will help you make a fashion statement with confidence and sheer elegance. These round sunglasses come with UV protected lenses. The double bridge will subtly complement its retro appeal.
The Coppery Brown
Celebrate every moment of your life with quintessential silver-coloured round sunglasses from Burberry. Whether you want to bask under the sun or want to keep your eyes safe, you can never go wrong with these evergreen and timeless sunnies. These rimmed sunglasses are a perfect choice for your everyday wear. They are extremely durable and offer a sophisticated look to the wearer. Own these stunning pair of shades and carry your outfit with grace.
The Playful Golden
Refresh your everyday look with a pair of bright golden coloured round sunglasses from Fastrack. No matter what season or occasion it is, you can look stunning all the time. Simple in design, these sunnies will add a fun touch to your outfit. A classic combination of golden and brown can never go wrong with a pair of casual and comfy outfits. So, gear up to look your best all day long, with a touch of sophistication.
A Colourful Mind
These cheetah print and purple coloured round sunglasses from Polaroid will be your perfect companion for your afternoon lunch. Pep up your style game by trying round sunglasses for men from Polaroid. The purple rim around the lenses adds a bit of a dramatic touch and will enhance your face's unique features more gracefully. Stand out with your unusual style!
The Majestic Black
The Ray-Ban black round sunglasses are completely retro. This stylish look has been worn by legendary musicians and artists. These unisex sunglasses by Ray-Ban, are known for their defined round lens and distinct shape. Sleek temple and adjustable nose pads rest comfortably behind the ears. These sunglasses will add to your confidence and help you make the best impression.
A Dash of Rose
The elegant and suave design of frame will completely leave you mesmerized. These pink coloured round sunglasses for women from Titan are made with plastic and metal frame. The lenses offer complete UV protection while the transparent pink colour and the frame's round shape creates a sense of exclusivity.
Experiment with Different Types of Round Sunglasses
You can explore a wide variety of round sunglasses in ample of designs, such as square-shaped frame with curvy and rounded edges or a simple round frame with slightly squared edges. Shop for your favourite brand of round sunglasses from reputable retailers like Titan Eyeplus. They offer exclusive offers online with transparent pricing. To help you have a pleasant experience, you can seek help from the dedicated team of customer service specialists.
Re-discover your style with the uber-stylish retro-style round sunglasses!