The Best Prom Shoes for 2022
April 23rd, 2022 by Diana Ross
Choosing the right Prom Shoes is certainly not a chore, with so many dressy shoe trends on the market for Spring Summer 2022 it's a fun! There are tons of different styles suitable for prom, including: block heels, stiletto heels, flat pumps, flat sandals. The first thing to decide is which shoe style will suit your prom dress best, if you're wearing a long dress with a train you could choose a flat style like diamante sandals. The next important thing is colour matching, will you go for the same colour as your dress, a different colour like silver, or maybe even a colour clash? Another very important thing to note is comfort, if your feet can tolerate high heels go for stilettos but if not block heels, wedges, or flats may be a safer choice. 
Strappy Block Heels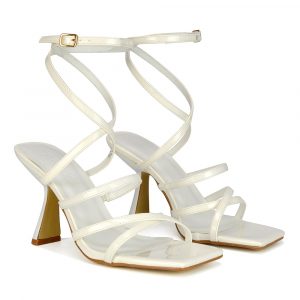 Strappy heels are a big look for Spring Summer 2022, there are so many different arrangements of straps to choose from. Most strappy styles ae ideal as Prom Shoes, these strap styles include thin barely there, lace up, ankle strap, and cross over to name just a few. These Donna strappy block heels will work with any dress length, they have elegant cross over thin straps but also square toes and flared heels for an edgy vibe. Pair with a strappy full length dress with low plunge for ultimate sass appeal. 
Flat Pumps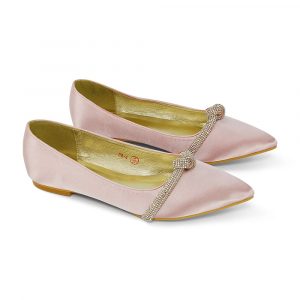 Who said you must wear heels to prom? Ballet pumps can look just as elegant especially with a full-length dress, with a long dress the shoes will barely be seen. Even though a full-length dress will cover your shoes most of the time, it's not all about how you look – more importantly it's how we feel as we want to feel elegant and feminine too. Choose flats with pointed toes and diamantes like Halley flat pumps, diamante details are not only a glamorous feminine touch but it's a trending feature seen across runways for Spring Summer 2022. 
Fluffy Heels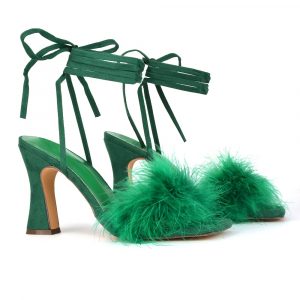 If you're a serious fashionista, then fluffy heels are the Prom Shoes for you. Style your fluffy shoes with a midi dress to showcase their elegant yet unique look, Lovelyn fluffy sandal heels are a good choice as they have a mid block heel which is great for comfort. Rock the bright colour trend and take it one step further with a colour clash, choose green heels and team with an orange satin slip midi dress for a look that will get all the attention.
Heeled Mules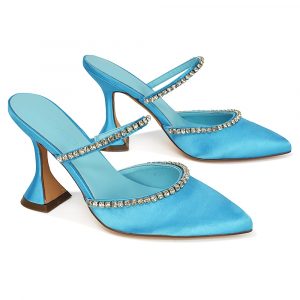 Deena pointed toe heeled mules giving us serious Cinderella glass slipper vibes right here. Glamorous diamantes and jewels have been all over runways for Spring Summer 2022, with top designers creating heels with dazzling straps. Deena heeled mules include a combination of trending features – as well as diamante straps, they have a flared heel and pointed toe. To create the dreamiest prom look team these Deena heeled mules with a long dress featuring a sweetheart neckline, corset, and front split.
Ornate Prom Heels
Go all out sass with not just any sky high stiletto heels, go for an ornate metal heel like Rayne strappy square toe heels. The cross over barely there straps create a dainty look. Make sure you tie the laces low around the ankle, If you tie the laces up the leg it will take eyes away from you're the star of the show being your dress. Team with a knee length cream satin dress with delicate straps and complete with a diamante clutch bag. 
Flat Diamante Sandals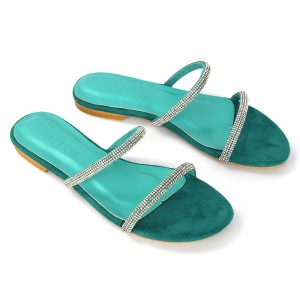 Diamante flat sandals can be just as elegant as a pair of high heels, Annalise diamante sliders are proof of this. If choosing sandals for prom you just need to remember to choose sandals with delicate small diamantes, and thin straps to give an elegant look. You will not only look a million dollars, but you will feel like you're wearing slippers in flats, plus no need to kick off your Prom Heels on the dance floor. Embrace the bare feet look by going boho and be inspired by fairies, style your flats with a chiffon layered cream maxi dress with a mini clutch purse on a shoulder chain.
Why It's Important to Choose the Right Prom Shoes
Your prom is a night you will remember for the rest of your life, and the photos will forever be evidence of the outfit you wore so you need to nail it! Your Prom Heels or flats can make or break your look so it's important to choose wisely, the biggest thing you need to decide is flats or heels. Flats are a great option whether you can or can't walk in heels, if you choose the right pair you're onto a winning look. If you choose heels there are a ton of trending styles at XY London that will look hot AF with a prom dress, just remember to wear them in beforehand so they're comfortable on the big day!