Styling Long Dresses: Tips for a Glamorous Look
November 24th, 2021 by David Martin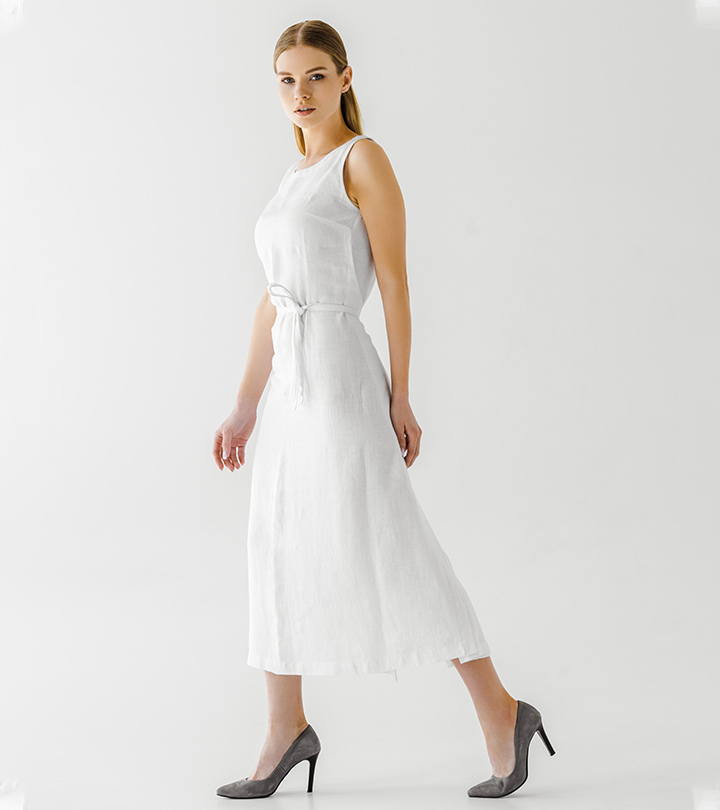 Of course, you want the latest from the runway. Regrettably, while you love the selection of colors and materials in your favorite designer collection, you find some of them to be a bit on the skimpier side. Naturally, there's a preference for long dresses in Dubai, the rest of the UAE, and elsewhere in the GCC.
Fortunately for you, some shops understand this need, providing a curated collection of a more conservative alternative to the dresses you might have loved seeing on the catwalk. Now, all you need to do is learn how to style your long dresses so you can look modest yet stylish.
1.    Accessorize With a Belt
So, you have a favorite dress, and you look great in it. But if you don't want your look to get old too soon, you will need to change it up from time to time. One of the ways you can do this is by accessorizing your dress with a belt.
The great thing about belts is that there are numerous variations of them. There are leather belts, metal belts, and fabric belts. Belts come not only in different materials but also in various colors, shapes, designs, and sizes.
With a belt (and a selection of other accessories, of course), your dress can look like an entirely different piece, go from casual to formal, from boho to preppy, and all the other styles in between.
Tips on How to Use a Belt
Use the following pointers as a general guideline when accessorizing your dress with a belt.
●       Use the Belt to Enhance Your Silhouette
Belts will cut your figure, so be careful about their effect on your silhouette.
If you have a particularly tiny waist, you may choose to accentuate it by cinching a belt on your natural waistline. Belts worn this way can also help create a more feminine silhouette in long, flowy dresses.
You can wear your belt higher than your natural waistline if you are on the petite side. This will help accentuate your bust, create the illusion of a slimmer waist, and make your legs appear longer.
●       Add Contrast or Color to Your Dress
When choosing a belt to wear with your dress, go for something that will contrast nicely with your outfit. For instance, a metallic gold belt can do wonders for a long black dress or even a dark dress with a jewel tone.
You can wear a statement belt or a belt that can't help but draw attention to itself because of its size or embellishment. Such belts, however, are best worn with plain dresses.
And remember to evaluate your belt according to the complete look you want to achieve. While a belt can add visual interest and a pop of color to your dress, be careful with how it works with the rest of your accessories and your whole outfit.
●       Make Sure Your Belt Is Visible
A belt is an accessory so, generally speaking, you want it to be visible.
2.    Layer
Long dresses work great layered with a coat, cardigan, jacket, abaya, shawl, and almost all types of layering pieces.
The following are some layered look ideas you can try with your long dress.
●       Abaya
Pair a straight-fit, open abaya with your simple white or beige, unembellished long dress. It would look very feminine and elegant.
There are many different styles of the abaya, so you should be able to find one that matches your dress and works well for daytime and evening wear.
●       Trench Coat
You can wear a trench coat with your long dress. Generally, you want a trench coat that is longer than your dress.
●       Denim Jacket
A denim jacket works great with long dresses, especially flowy, flowery, romantic-looking dresses. A denim blue jacket worn over a pink or off-white long dress creates a beautiful contrast of textures and colors.
●       Leather Jacket
Instead of the denim jacket, you can layer a leather jacket over your long dress. A leather jacket can create an excellent contrast of colors and textures with a long, flowy dress just like a denim jacket.
●       Cardigan
A cardigan can also work layered over a long dress. This is a wonderful way to transition your long summer dresses for colder weather.
●       Blazer
You can also create an interesting look by wearing a structured piece like a blazer over your long dress. This can tone down a look and make your dress more suitable for office wear.
●       Shawl
Shawls and long dresses are a classic pairing. You cannot go wrong with a shawl or stole thrown over your shoulders for a romantic dinner or a classy night out with your crew.
3.    Mix Loose With Tight
This is a good guideline for styling outfits. If you're wearing a sheath or a long dress with a slim silhouette, wear a flowy layer like an abaya over it. If you're wearing a long, oversized dress, you can wear a tight cardigan over it.
4.    Show SomeSkin
Long dresses are wonderful because they are comfortable, romantic, and provide excellent coverage. And showing a bit of skin with your long dress will emphasize all of these nice qualities.
●       Wear Skin-Revealing Shoes
Wear pumps, heels, and strappy sandals with your long dress. The skin these types of footwear show will provide a nice contrast to your long dress.
●       Wear Nude Shoes
For even better contrast, choose nude footwear or shoes in your skin tone.
●       Show a Bit of Skin on Top
You can choose a cold-shoulder or an off-shoulder dress. You can also choose a dress with a sweetheart, V, or bateau neckline.
5.    Accentuate With Statement Jewelry
And, of course, you can wear statement jewelry with your long dress. This strategy works exceptionally well with unembellished, long dresses.
For instance, you can wear a wide choker or collar necklace with an unembellished kaftan or a low-shoulder, solid-color, double wool crepe gown. Meanwhile, an opera necklace will work like a dream with a high-necked, belted velvet dress.
Styling That Works for You
Long dresses are wardrobe staples, and with clever styling, you can achieve so many different looks with just a few dresses.
You can use the above list to guide you in your styling choices. Just remember, though, that there really are no fixed rules to style. The only absolute is that styling must elevate your outfit. So, in the end, if it looks good and makes you feel good, it works.